Earlier today, I emailed Joel to ask him what he wanted for dinner…this was his response: "Surprise me. Make it blog-worthy."  Well, needless to say, "blog-worthy" is exactly what he got…..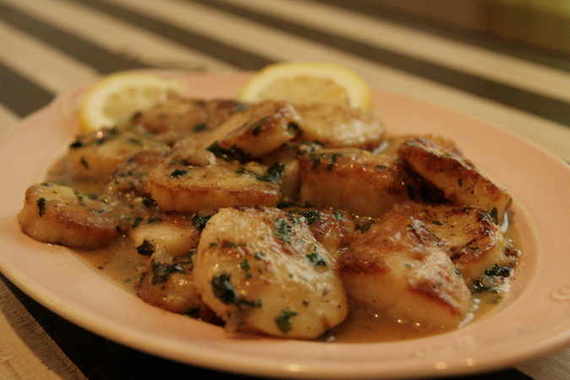 I had been wanting to try Ina Garten's recipe for Scallops Provencal for a while now, and I thought surely, that would be blog-worthy! I absolutely adore scallops; they're quite possibly, my favorite type of seafood. They're good fixed just about any way – my dad wraps them in bacon and grills them…now that's tasty, folks!
This dish took about 10 minutes total to make. Talk about a no fuss meal! I decided to serve couscous alongside the scallops, which was also a breeze to make. This meal is a prime example of something that looks like you went to a lot of trouble to make, but secretly, was a cakewalk. Joel really enjoyed it (and so did I, come to think of it!) and requested that I definitely make this again. So, I'd say that I succeeded in delivering a sure fire "blog-worthy" meal for my hard-workin' man!
Scallops Provencal
-from Barefoot in Paris
1 pound fresh bay or sea scallops
Kosher salt and freshly ground black pepper
All-purpose flour, for dredging
4 tablespoons (1/2 stick) unsalted butter, divided
1/2 cup chopped shallots (2 large)
1 garlic clove, minced
1/4 cup chopped fresh flat-leaf parsley leaves
1/3 cup dry white wine
1 lemon, cut in 1/2
If you're using bay scallops, keep them whole. If you're using sea scallops, cut each 1 in half horizontally. Sprinkle with salt and pepper, toss with flour, and shake off the excess.
In a very large saute pan, heat 2 tablespoons of the butter over high heat until sizzling and add the scallops in 1 layer. Lower the heat to medium and allow the scallops to brown lightly on 1 side without moving them, then turn and brown lightly on the other side. This should take 3 to 4 minutes, total. Melt the rest of the butter in the pan with the scallops, then add the shallots, garlic, and parsley and saute for 2 more minutes, tossing the seasonings with the scallops. Add the wine, cook for 1 minute, and taste for seasoning. Serve hot with a squeeze of lemon juice.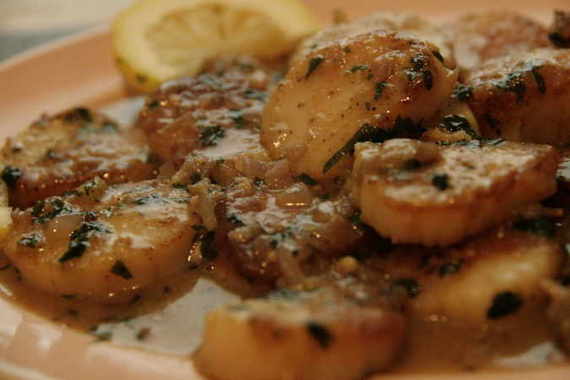 Simple Couscous
1 cup couscous
1 1/4cup chicken broth
1 tablespoon butter or olive oil (I used olive oil)
salt and pepper to taste
1/4 cup chopped fresh parsley
1/4cup grated Parmesan cheese
fresh lemon juice
Bring chicken broth and olive oil (or butter) to a boil. Remove from heat and add the couscous. Let sit for 5 minutes, then fluff with a fork. Add parsley, a squeeze of lemon juice, and parmesan cheese and stir.