I hope you're not picturing one of those soggy, deep-fried-mystery-meat-of-the-sea-type sandwiches you get at a fast food joint, right now – 'cause its not that kind of fish sandwich!
While on our fabulous honeymoon in St. Lucia (almost 2 years ago…YIKES!), Joel and I spent each day exactly the same: wake up, go to breakfast, go to the beach for a few hours, have lunch at the beach bar, go back to the beach, go back to our room and relax in the hammock on our front porch, get dressed and go to dinner. We followed the same exact schedule every day – not on purpose, really – it just always happened like that. (Not a bad day's work, if you ask me!) And almost every day for lunch, we would order the "flying fish sandwich" from the beach bar – really delicious!  It was served with a basket of plantain and sweet potato chips and a cold Piton Beer – it doesn't get much better than that, folks! (Not surprisingly, lunch was always my favorite meal on this trip!) Somehow, every time I come home from a trip, the things I always remember most are the meals! And in my opinion, that's the best way to go back and remember the good memories from past trips – just re-create the dishes and you're there! And so, the "honeymoon fish sandwich" was created (or in this case, re-created!)! I wasn't really in the mood for plantain and sweet potato chips, so I decided to go with a homemade buttermilk coleslaw (from allrecipes.com – go here if you'd like the recipe.) and oven fries. I also whipped up a quick homemade tartar sauce to spread on the buns. I'm telling you – this was one excellent fish sandwich!!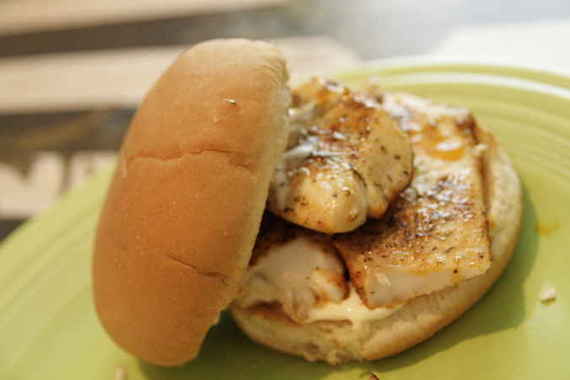 Honeymoon Fish Sandwich
2 tilapia filets (or any white fish you like)
2 teaspoons salt
1 teaspoon pepper
Dash or two of cayenne pepper
2 teaspoons fresh dill, chopped (you could also use dried)
2 teaspoons paprika
fresh lemon juice
Season both sides of the fish with salt, pepper, cayenne, dill and paprika. Sautee in a skillet over medium heat for 2-3 minutes on each side; sqeeze lemon juice over the fish while its cooking. Serve on a toasted bun with homemade tartar sauce (recipe follows) and lettuce. Serves two.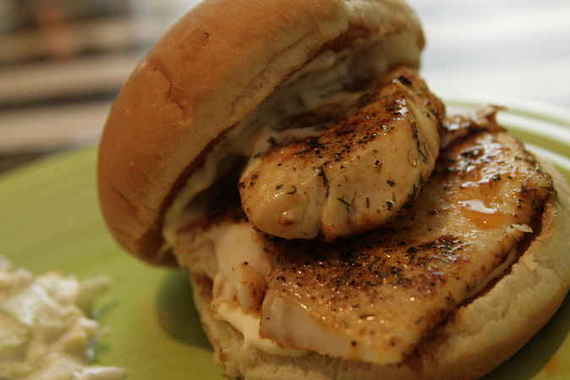 Homemade Tartar Sauce
1/2 Cup mayonnaise
1 Tablespoon chopped dill pickles (with just a splash of the pickle juice)
1 Tablespoon minced onion (I used onion powder)
1 Tablespoon fresh lemon juice
salt and pepper to taste
Combine all ingredients and chill for at least an hour before serving.