I have a confession to make: anytime I hear anyone talk about a Cooking Light recipe, my eyes glaze over and I sort of just stop listening all together. Just not interested. Now, don't get me wrong, I'm not one of those "Paula-Dean-butter-and-fat-lovin" kind of cooks that hates all things healthy – I just tend to think cooking light = no flavor. I don't really know why…I know, I know – it doesn't really make sense. So, with that thought in mind, I decided to give Cooking Light a try. I found one of those magazine/cookbooks at my grocery store, flipped through it, and found a few recipes that actually didn't sound half bad – so I bought it. So far, everything I've made out of it has been pretty tasty – including these tuna steaks with green goddess aioli.
This was a delicious meal! Of course, I love anything with avocados! The green goddess aioli would be great on just about anything, I think! Super easy to make and not to mention quick! I made my tuna extra spicy, which was really nicely balanced by the coolness of the aioli. I served it with some oven roasted potato wedges, grilled veggies and grilled sourdough bread.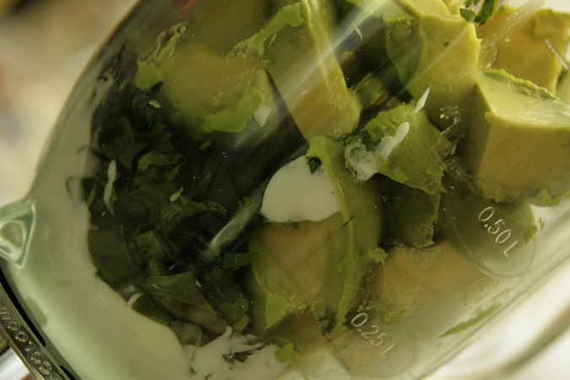 Tuna Steaks with Green Goddess Aioli
-Adapted from Cooking Light
For the Aioli:
1/4 Cup fat-free sour cream (I used reduced fat)
2 Tablespoons chopped fresh cilantro
1 Tablespoon chopped fresh basil (I used more like 2 or 3 tablespoons because I love basil!)
1 Tablespoon chopped fresh parsley
2 ripe avocados, peeled and pitted
2 Tablespoons fat-free mayonnaise
1 Tablespoon lemon juice (I used 2 or 3)
1/4 teaspoon salt
1 garlic clove, chopped
Combine all ingredients in a blender and process until smooth. Store in the refrigerator until ready to use.
For the Tuna:
Season 2 to 4 tuna steaks on both sides with salt, pepper, ground cumin and cayenne pepper (I used a lot), and cook on a grill pan (over medium-high heat) for two minutes on each side until desired doneness.
Spoon green goddess aioli over tuna steaks and serve.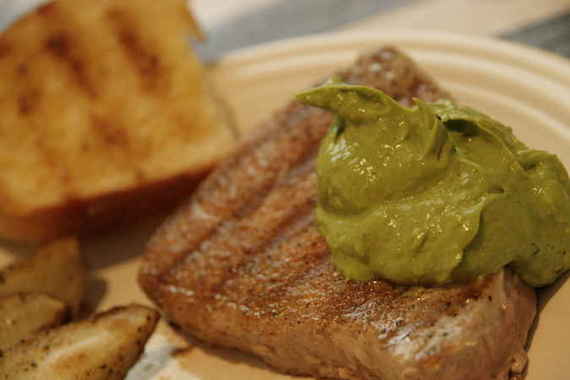 So, I guess this proves that Cooking Light really isn't so bad – they've got some pretty yummy recipes, actually! From now on, anytime someone tells me about a Cooking Light recipe – I'll actually listen! Maybe even get the recipe from them to try for myself! See, I'm growing…..