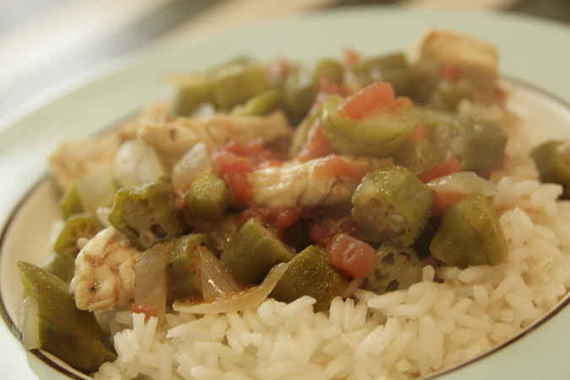 My sister is one of those hard working women – with a job, a husband, a kid, a house and everything else to take care of, I don't know how she manages to find time to cook (and sometimes she doesn't – but a pizza night every now and then never hurt anybody, right?). Sometimes she'll stumble across a recipe that was extra yummy and kindly pass it on to me (woo hoo!). The latest recipe she's given me was this Okra Gumbo. Surprisingly easy and super fast, but really really tasty at the same time! Its one of those dinners that you can have on the table in no time on a busy night , yet it tastes like its been cooking all day! Hubby really enjoyed it, as did I! Thanks, big sis!! Keep the recipes comin'!
Lindsay's Okra Gumbo
1-16 oz. package frozen cut okra, unthawed
1 onion, chopped (I used half)
1-15 oz. can diced tomatoes (don't drain them)
2-3 slices bacon
salt & pepper and cajun seasoning (lots) to taste
(I added 1 1/2 chicken breasts cut up into small pieces for a little extra flavor)
In a large pot over medium-high heat, cook bacon, reserve grease. Remove the bacon from the pan and add the onion, cooking until translucent, then add the chicken (season it with a little s&p before tossing in) and sautee until cooked through. Add the frozen okra and tomatoes; season with plenty of salt and pepper and lots of Cajun seasoning (yum!), then add the bacon back in and cook over medium to low heat for 15 -20 minutes until heated through.
Serve over white rice.  *Here's a little tip: throw in a splash of white vinegar – it helps to cut the okra's "sliminess" and you don't taste it a bit!