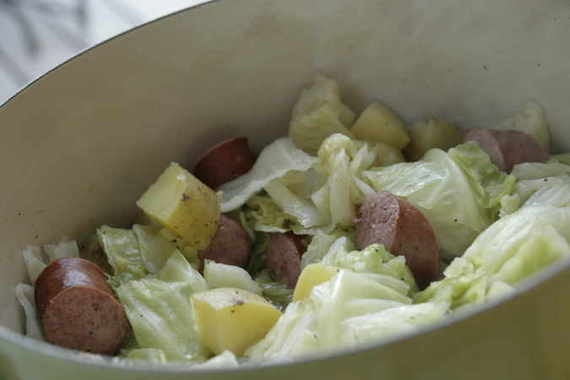 I am categorizing this under "Soups/Stews/Other" because I really have no idea what to call this dish….or what kind of dish it is, exactly. I figure it fits under the "other" category pretty well – so we'll just leave it at that.
I was a DARN picky eater as a kid…I hated a lot of things my mother would cook for us, as well as most restaurants. Some of the things my mom would make that I can remember having the most disdain for were her chicken enchiladas (WHA?! What was I thinking??!), chicken stew and stuffed peppers, to name a few. Of course I love all of those things now, but back then there was just something about them that made me absolutely despise them. I guess I was just your typical snot-nosed picky little girl….heheh- some things never change, I guess. 😉
My sister was sort of picky too, I suppose, though not near as whiny and shrieking about it.  But there were some things that my sister and I loved that most kids wouldn't touch with a ten foot pole. For example, everyday when we would come home from school, our choice of snack would always be canned, cold spinach and Vienna Weenies (you know, those short, stubby little weenies that come in the tiny little can?).  We'd sit there and eat the stuff right out of the CAN! Even though we could have our choice of cookies, brownies, WHATEVER! We always wanted the cold spinach and weenies. Even looking back now I wonder what the heck we were thinking…and we were little kids, mind you – I was in like, 2nd grade! Weird freaking kids…..
So yeah, we had a habit of liking odd, non-kiddy type foods. I mean, sure, I liked those little frozen kiddy dinners that came with the cartoon-shaped macaroni and a tiny little brownie, but some grown-up foods were very appealing to us. One of those foods was cabbage. My sister and I both loved cabbage.  I remember my Nana (hey Nana!) cooking cabbage in her big pot in the kitchen and my sister and I would absolutely gobble it up.
I still love cabbage to this day – its great in soups, as a side dish or cooked my personal favorite way – in a big pot with sausage and potatoes. YUM. I'm almost positive this dish came from somewhere, I just have no idea where. I don't have a title for it, nor do I know what kind of food category it would fall under. Obviously. All I know is, my mother got the recipe from our Uncle Benny. He didn't have a title for it either – he just thew it all in a pot and that was that. So, without further ado, I give you Cabbage, Sausage, Potato….stuff.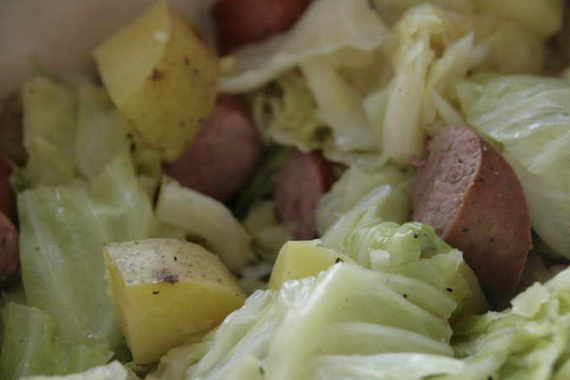 Cabbage with Sausage and Potatoes
1 head cabbage, roughly chopped (I guess you could use any type of cabbage you wanted – I just use the regular old "white looking" cabbage that you find everywhere)
1 pound fully cooked Hillshire Farms smoked sausage, sliced into big bite-sized pieces (I used Turkey sausage – fat free and you couldn't taste the difference!!)
2-3 yukon gold potatoes, cut into chunks
Salt and Pepper to taste (I also use a bit of Cajun seasoning)
Pour approx. 1/2 cup water in the bottom of a large dutch oven or heavy pot, then add the sausage; layer the potatoes, then the cabbage over the sausage, seasoning with salt and pepper as desired (not too much, though – the sausage will do most of the seasoning for you). Cover and cook over medium-high heat for 15-20 minutes, or until cabbage and potatoes are tender. Make sure the bottom of the pot never goes dry – if the water dries up during cooking, quickly add more. Serves 4.
* You can also add onions if you want; I just choose not to. My Uncle Benny likes to add a can of Rotel Tomatoes as well. I like to keep mine simple, though. But that's the beauty of this dish, you can pretty much add whatever you want to it – carrots, celery….whatever!
You could definitely serve this all by itself, but I like to have a little bread with it – I served this with Katie's Easy Cheesy Beer Bread.  This is seriously filling and delicious – hubby LOVES it. Plus, its a super satisfying meal in one pot that costs less than $5.00! You can't beat that, people!