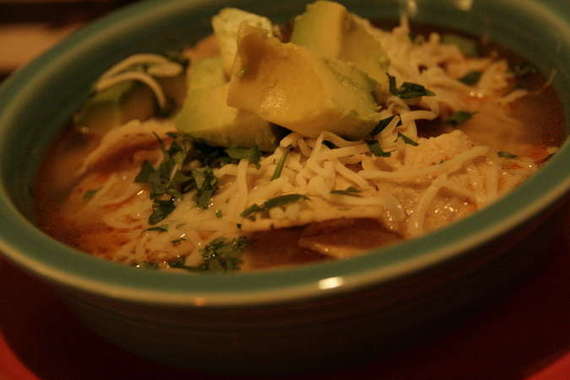 This was a pretty uneventful Saturday, but sometimes those are nice…
We had originally planned on going out, but the more I thought about it, the more I didn't want to mess with getting dressed, fixing my hair and putting on makeup…all that stuff. Plus, I couldn't think of one single restaurant that sounded good. It was a little chilly and dreary outside, so I thought it might be fun to just stay in, eat something "comforting" and watch a movie. So, I decided on Chicken Tortilla Soup. This soup is one of our all time favorites. It takes no time to make and it's "no-fail", not to mention delicious. The lime juice adds such great flavor, and the melty cheese with the cool avocados and fresh, bright cilantro….Y.U.M. That's all I can say….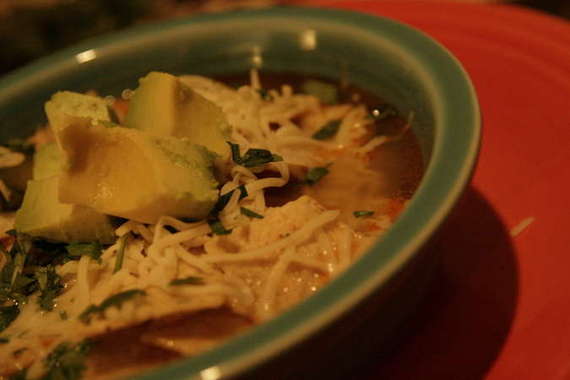 Chicken Tortilla Soup
-adapted from Williams-Sonoma: Food Made Fast: Soup
6 cups chicken stock, homemade or purchased (I use reduced sodium)
2 cups cooked, shredded chicken (I like to roast mine)
½ white onion, chopped
(I also add 2-3 zucchinis, chopped)
2 teaspoons chili powder (I also use 1 teaspoon or so of cumin)
juice from 3-4 limes
salt and pepper to taste
1 cup crumbled tortilla chips
Coat a large saucepan with olive oil over medium-high heat, add onion and zucchini and saute until tender, about 3 minutes. Add the chili powder and stir until fragrant. Pour in stock and bring to a boil. Add the shredded chicken, reduce the heat to medium and simmer until the chicken is heated through. Add the lime juice and salt and pepper to taste. Ladle into bowls and top with tortilla chips and garnishes.
Garnish ideas:
shredded Monterey Jack cheese
chopped avocado
fresh chopped cilantro