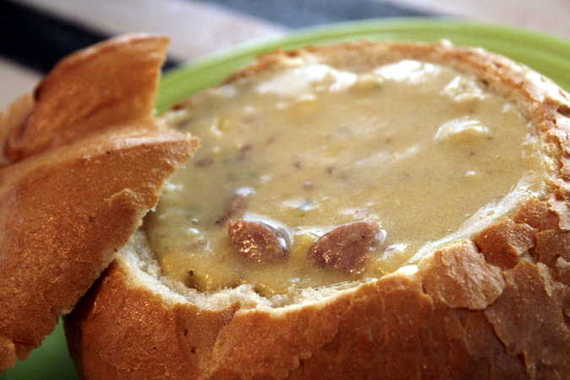 With all this cold, icy weather, I thought it would be only  fitting to post a great soup recipe! And who knows, maybe this warm, hearty chowder will make it to your dinner table tonight to keep out the cold!
This Potato, Corn and Sausage Chowder is great because it's not one of those all day soups – it takes no time to make! And it gave me a great excuse to try out my new immersion blender hubby got me for Christmas!! (*But don't worry if you don't have one – you can either use a regular blender, or just leave it chunky, which I think is a great idea). This is a great recipe because unlike most chowders and creamy soups, it's made with low-fat milk instead of cream; and I took the healthiness a step further and used lean turkey sausage – great taste and no guilt!

Corn, Sausage and Potato Chowder
-adapted from Food Blogga
1 tablespoon butter
1 cup yellow onion, chopped
2 cups Yukon Gold potatoes, chopped
2 cups vegetable broth
2 cups fresh corn kernels from 2 ears (or frozen)
1/4 teaspoon white pepper or cayenne pepper
1/2 teaspoon salt
6-7 cranks of freshly ground black pepper
2 cups low-fat milk
1/4 cup sharp white cheddar cheese, shredded
3 tablespoons finely chopped fresh parsley
1 package fully cooked turkey sausage (about 1 pound – you can use more or less if you want)
In a deep pot over medium-high heat, melt butter. Saute onions for 5 minutes, or until lightly browned. Add potatoes and broth, and bring to a boil. Reduce heat to medium-low; add corn kernels, cayenne, salt, and black pepper, and stir well. Cook until potatoes are tender, about 15 minutes. Add the milk, cheddar cheese, and parsley. Turn off heat and allow chowder to cool for 5-10 minutes.
Puree soup in two batches until smooth, and return to the pot over medium-low heat. Stir in cooked sausage and warm until thoroughly heated. Season with salt and freshly ground black pepper, to taste.
I served it in individual bread bowls and hubby absolutely loved it! And it tastes even better the next day, by the way. Just perfect for super cold weather!