I love french fries. Everybody loves them. You can find them all over the world – in Germany, I ate them served up alongside wiener schnitzel; when my friend Lindsay and I were in Italy, she was served a "french fry sandwich" of sorts (a pretty funny story, really, but I won't go into it right this minute). They're everywhere, and they're delicious. But let's face it, french fries aren't the healthiest way to eat a potato. Unless……
Yep, you guessed it – sweet potato fries. They're baked, they're delicious, and they're good for you! I, personally, can't get enough sweet potatoes. I'll take them anyway I can get them – baked, with butter and brown sugar; in the "sweet potato soufflé" my mom sometimes makes, topped with coconut and chopped pecans; even the kind you get out of a can – in college, when I didn't have an oven, I'd heat up canned sweet potatoes in the microwave for dinner; and, my new favorite: sweet potato fries, baked up crispy in the oven, served up with a garlic aioli for dipping.
These fries really are awesome. They're incredibly easy to make and they're versatile, too. You can add any seasonings you want – the possibilities are endless! I opted for simplicity and seasoned with garlic powder, salt and pepper. De-lish.
Baked Sweet Potato Fries
2 large sweet potatoes, scrubbed and cut into 1/2-inch sticks (this serves 2-3 people)
1 teaspoon garlic powder
1 teaspoon salt
1/2 teaspoon pepper
1 tablespoon olive oil
(I really didn't measure – I just threw it all in, so these are just estimates – use as little or as much seasonings as you want)
In a large bowl, drizzle the sweet potato sticks with the olive oil and season with garlic powder, salt and pepper; toss to coat evenly.
Spread evenly on a baking sheet lined with foil (you might want to spray the foil with a little olive oil spray or Pam, just to ensure nothing sticks)
Bake at 400 degrees for 40-45 minutes, or until crisp and slightly brown. Serve with garlic aioli (recipe below)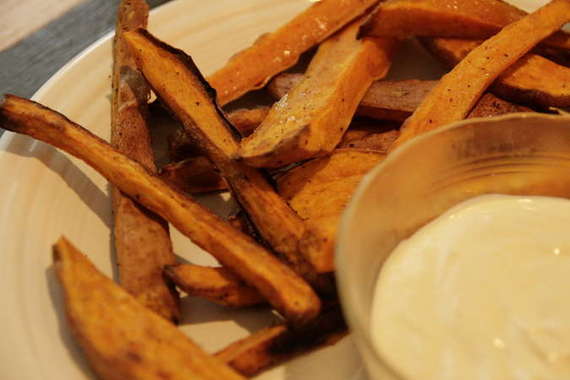 Garlic Aioli
-Giada DeLaurentiis
¾ cup mayonnaise
1 clove garlic, grated (you could just chop it if you want to, but I don't like "chunks" of garlic, so I used my microplane)
1 tablespoon lemon juice
In a small bowl, combine mayonnaise, garlic and lemon juice; stir to combine.