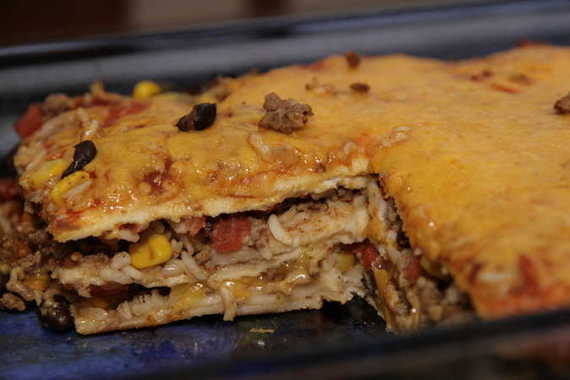 Here's yet another winner from Renea over at Sweet, Savory, Southern– I think this is something like the fourth or fifth recipe of hers that I've made and loved. This time around, it's her Mexican Casserole – we had it last night with homemade guacamole and raspberry margaritas…a very pleasant meal, indeed! The recipe made enough for us to have it again tonight – yippee!!
Mexican Casserole
-Sweet, Savory, Southern
1 lb lean ground turkey (I used really lean ground beef)
1/2 an onion, diced (As always, I used onion powder)
1/2 cup corn kernels (canned or frozen) *I also added a can of black beans
1 bag Mintute rice
1 packet taco seasoning (or make your own with chili powder, cumin, salt, garlic powder and paprika)
10 oz can diced tomatoes with chilies
14 oz can enchilada sauce (small can)
shredded mexican cheese
6- 8″ tortillas
Preheat oven to 375. Begin by sauteing the onion in a little olive oil until it begins to soften, about 4-5 minutes. Add the ground meat to the pan. While the meat is browning, cook the rice according to the package directions and set aside. Once the meat is browned, drain any fat or liquid from the pan. Add the corn kernels, taco seasoning and 3/4 cup water. Stir to combine. Add the rice and stir. Spray a 9×13 baking dish with cooking spray. Add 1/2 the can of enchilada sauce to the bottom of the pan. Next, make a layer with two tortillas. They should overlap a little. Add a layer of the meat mixture and then 1/2 the can of diced tomatoes with chilies. Add a thin layer of shredded cheese. Add two more tortillas and repeat the layers, ending with a layer of tortillas. Top with the additional enchilada sauce and cheese. Cover the pan with foil and bake for about 25 minutes. Remove the foil and allow to cook an additional 5-10 minutes. Let sit 5-10 minutes before serving.
YUMMY! Like I said earlier, this goes great with some homemade guacamole and a big 'ol pitcher of margaritas (just don't take the plastic pour spout-thingie off your tequila bottle…because then the cap wouldn't fit back on and you'd have to duct tape it so it would stay on. Makes no sense to you? Yeah, me neither, but somehow it happened….) Enjoy!