These stacked enchiladas come from my great-grandmother; but not Baba, the one who's recipes I post so often – my other great-grandmother (my Daddy's grandmother). I probably owe a lot of my culinary curiosity to Grandmother. There were three things I always wanted to do when I visited Grandmother- 1. put on one of her long, comfy nightgowns, 2. root around in her jewelry boxes, and 3. get in her kitchen and make a giant mess. She would let me put practically anything I wanted in her frying pan and "cook" my own little recipes (under her supervision, of course…I probably would've burned the house down had I been left alone. I was that kid) – one time in particular I remember making an epspecially large mess with a tub of marshmallow fluff. There was nothing I enjoyed more than having free reign in a grown-up's kitchen. Good times….
Anyway, on to the enchiladas. When I was first married, my mother gave me a stack of hand-written recipes (all of her favorites) in my stocking at Christmas. A lot of the recipes have little stories written along with them, explaining where they came from or how they got to be so loved. Here is the story my mom wrote on the back of the recipe card for these enchiladas:
"Grandmother would call us and say, 'I'm making enchiladas" – usually sometime after Christmas when Mexican food tastes so good after all the rich Christmas food, or the first really cold day in Winter. She never had to ask twice; we couldn't get there fast enough!"
The best thing about these enchiladas (besides the taste, obviously) is how easy they are. They're made with simple stuff you probably already have in your pantry. I like to use ground turkey and turkey chili to make them a little healthier. They're just perfect when the weather is really cold and you need a quick, comforting dinner. They also make a great Super Bowl meal – a couple of years ago we had our friends over to watch the game and I served these along with hubby's homemade salsa, guacamole and margaritas. That was one successful Super Bowl party.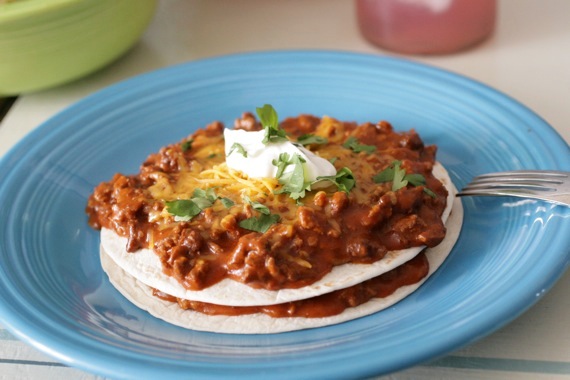 Grandmother's Stacked Enchiladas
1 pound ground beef
1 – 2 tablespoons minced onion (I use onion flakes or onion powder)
1 teaspoon salt (you can also add a little cayenne pepper if you like extra heat….I do)
2 tablespoons flour
1 can enchilada sauce
1 can chili (we like the kind with no beans…these ain't no "Yankee enchiladas"!) 😉
1 can tomato soup
corn tortillas (I use flour)
shredded cheddar cheese for topping
Brown meat in skillet and drain fat; stir in onion, salt and flour. Add enchilada sauce, chili, tomato soup and one can full of water and stir over medium heat until combined. Cook for 2 or 3 more minutes then turn the heat off. On oven-safe plates, layer one tortilla, then the meat mixture, then another tortilla and more meat mixture, then top with cheese and place in a 350 degree oven until bubbly and the cheese is melted. * If you don't have oven-safe plates, I've found just popping it in the microwave will work just fine too. Some good toppings are sour cream, jalapenos, cilantro…whatever you want! Enjoy!