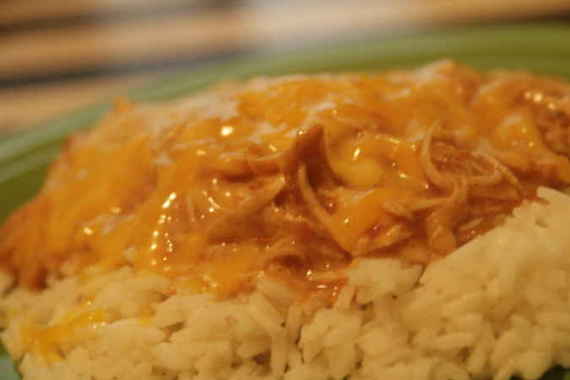 Ok, ok, I'll admit it – when I had heard people talking about this recipe, I was a little skeptical – even snobbish, if you will. The title just doesn't sound very appetizing to me – "Crockpot Salsa Chicken" – I always imagined it as throwing chicken in the crockpot with some jarred salsa and letting it go. Blech. Then I read the actual recipe – chicken…salsa…taco seasoning…cream of chicken soup…wait, WHAT?! Cream of chicken soup?!…..with SALSA?? Double blech!! But THEN I actually saw a picture of the stuff on Annie's blog, Cooking For Fun and it looked creamy and delicious! How could something that sounded so unappealing look so very enticing and comforting?? Well, I decided I just had to find out for myself if this was as delicious as it looked on Annie's blog! To get a second opinion, I even called up my sister and gave her the recipe and the idea to make it for her family's supper too! (we would compare notes later – that's what sisters do, right?) So she made hers and I made mine; the result: SUCCESS!!! It was completely delicious! Hubby gobbled it up over rice, and my sister's hubby ate his with tortillas and chips. I was surpised at how moist and flavorful the chicken was. My sis and I both agreed that this would be an excellent filling for enchiladas. I'll admit, even as I was combining the ingredients, I was still a little wary of it, but as it cooked and the smell starting filling my apartment, I knew it was going to be darned tasty! So thanks a heap, Annie – you convinced me! Next time, I'll think twice before turning my nose up at a recipe!
Crockpot Salsa Chicken
-Cooking For Fun blog
4 boneless, skinless chicken breasts
1 cup salsa-Fresh
1 package taco seasoning
1 can reduced fat cream of mushroom soup (condensed) or cream of chicken soup
1/2 cup reduced fat sour cream
Add chicken to slow cooker. Sprinkle taco seasoning over chicken. Mix salsa and soup (this was the part that looked a little iffy, but persevere! Its well worth it!); pour over chicken. Cook on low for 6 to 8 hours. Shred chicken with a fork. Stir in sour cream until heated, then serve over rice or tortillas. I topped mine with cheese. De-lish!!