What's for dinner this weekend?  Need a good meal idea? Here's all you're gonna need: chicken, barbeque sauce, onions, cheese and tortillas. Have this stuff in your fridge? Good – now, do your husband (or wife…there might a few fellas reading) a big favor and make the following recipe.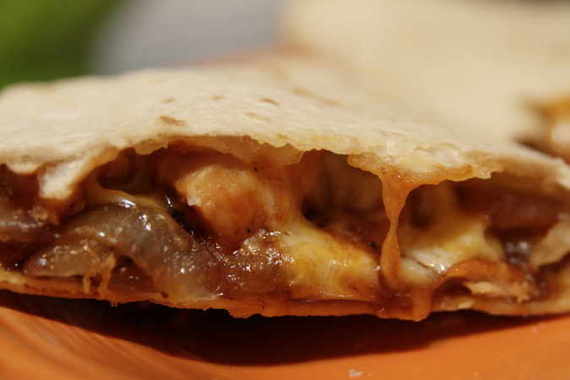 Texas Chicken Quesadillas. Miiiiiiighty tasty, in my opinion. Honestly, I don't really know what makes these "Texan" – I guess the BBQ sauce; everybody knows we Texans slather it on everything we eat…right?? Um, no, not really. But whatever – let's just go with it for now. This recipe has been really making the rounds in the food blogosphere – and every single foodie that's made it has just raved about it. So I thought it was about time for me to give it a whirl. I'll just come right out and say it – these are delicious. Melt in your mouth, cheesy, gooey, spicy, sweet…DELICIOUS. I don't even like onions, but their so nice and carmelized, they take on a new, sweet flavor that I really dig…..really, really. And drizzled with a little homemade ranch dressing, these babies are pretty hard to beat! So, if you had any doubts about your Friday or Saturday night dinner – doubt no more. Make these quesadillas. Your hard-workin' man (or lady) will thank you – trust me.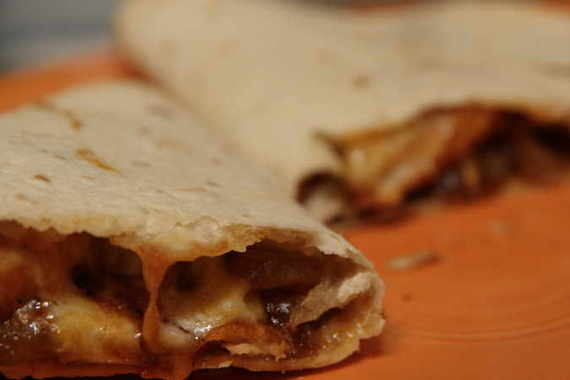 Texas Chicken Quesadillas
-Allrecipes.com
2 TBSP of oil
1-1/2 onions sliced into rings
1 TBSP honey
2 chicken breasts, diced
1/2 cup BBQ sauce
1 Cup shredded Mexican cheese
8 ten inch flour tortillas
Heat one tablespoon of the oil in a pan over medium high heat. Add the onions and cook until they begin to caramelize. Mix in the honey and stir until it is golden brown. Remove and set aside. Place the remaining oil in the pan and add the chicken. Cook through over a medium high heat. Stir in the BBQ sauce to evenly coat the chicken. Place the chicken, onions and cheese onto a tortilla, top with the other tortilla and cook in your quesadilla maker about 5 minutes. Alternatively, you can cook them in the oven at 350 degrees for 20 minutes. ENJOY!