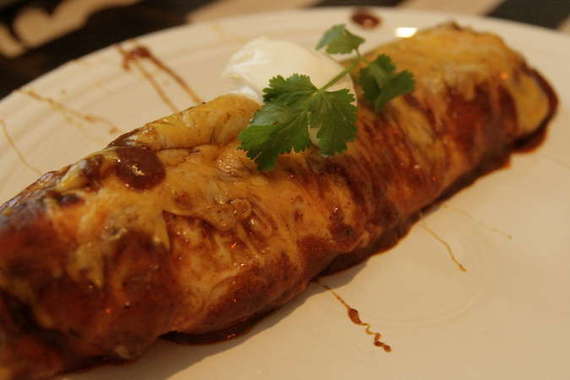 Sorry for the cheesy title….you can thank Joel for that. 🙂 Hey, I guess I should just be thankful he takes an interest in my blogging, right? Anyway, tonight's dinner got off to a very rocky start, but finished strong. I had a hankering for chicken enchiladas and discovered a really delicious-sounding recipe from Renea of Sweet, Savory, Southern. 
So, everything was going along great – Joel had just walked through the door, I was really organized, dinner was just about ready – all I had to do was make the sauce and throw the enchiladas in the oven. I had just started my sauce – I added the oil to the pan, then the flour and spices, yadda, yadda… as I was stirring, I happened to notice the mixture seemed a little thin, even after adding the flour. So I went back and checked my recipe…um, ¼ cup of oil…NOT ONE cup!!! Yeah – I used an entire cup of oil as opposed to the ¼ of a cup that the recipe called for. I have no idea where I got that….so, to try to fix things, I just added a whole bunch more flour…and spices….and used up all the rest of the chili powder I had. I ended up with a giant saucepan full of MUCK. Poor Joel had to get back out and go to the store for me (since I had used up all my chicken broth and chili powder) so I could attempt the sauce again. Luckily, the second time around was muuuuuuuuch better (and didn't end with me dumping the pan in the sink and throwing kitchen utensils every-which-direction).
This isn't your usual, run-of-the-mill Sour Cream Chicken Enchilada – in fact, that's why I chose this recipe – there's no sour cream! Now, for those of you who can't fathom a chicken enchilada sans the sour cream, don't worry: this dish definitely delivers (Renea knows what she's doing!)! The chili gravy topping is full of flavor and spice – topped with gooey, melty cheese and a dollop of cool sour cream (so, I guess there's a little sour cream in the recipe…), its a perfect enchilada, in my opinion (and Joel's). Even though this recipe calls for chicken, I think it would be fantastic with beef or ground turkey as well – whatever tickles your enchilada-fancy!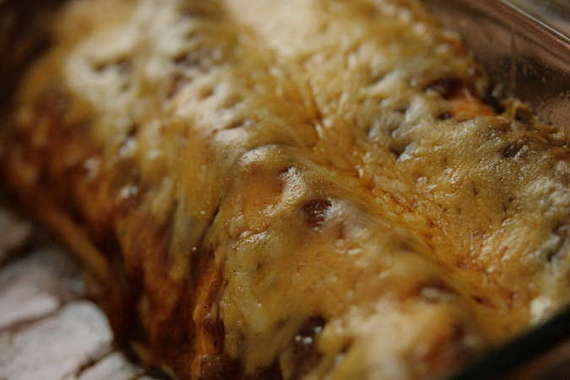 Chicken Enchiladas

(from Renea at Sweet, Savory, Southern)

2 boneless, skinless chicken breasts, cooked and shredded

1/2 a green bell pepper, finely chopped

1/2 onion, finely chopped

2 Tbsp olive oil

1 tsp garlic powder

salt and pepper to taste

2 cups chili gravy (recipe follows)

4 flour tortillas (I had enough filling for 5-6 tortillas)

1 cup shredded cheddar cheese
Preheat oven to 350. Heat olive oil in a skillet over medium heat.

Add onion and peppers and cook for about 5 min. Add shredded chicken and stir. Add salt, pepper, and garlic powder. Remove from pan and set aside. Using the same pan, make the chili gravy as follows.
Chili Gravy
1/4 cup lard (she used vegetable oil and so did I)

1/4 cup flour

1/2 tsp black pepper

1 tsp salt

1-1/2 tsp powdered garlic

2 tsp ground cumin

1/2 tsp dried oregano (Mexican oregano is preferred if it's available)

2 T chili powder

2 cups chicken broth (or water)
Heat the oil in a skillet over medium-high heat. Stir in the flour and continue stirring for 3 to 4 minutes, or until it makes a light brown roux.

Add all the dry ingredients and continue to cook for 1 minute, constantly stirring and blending ingredients. Add chicken broth or water, mixing and stirring until the sauce thickens. Turn heat to low and let sauce simmer for 15 minutes.

Once the chili gravy is done, add 1/2 a cup to the chicken mixture and stir. Spoon the chicken mixture into the flour tortilla shells and roll up. Spread another half cup of the sauce in the bottom of a baking dish and place the rolled tortillas in the dish. Top with the remaining cup of sauce and shredded cheese. Cover with foil and bake for 20-25 min. (I baked for 15 minutes minus the cheese, then added the cheese and cooked for 5 minutes more – just to melt the cheese)
Prep time: 12-15 minutes
Cook time: 20-25 minutes
Serves: 3 to 6 (depending on appetites)