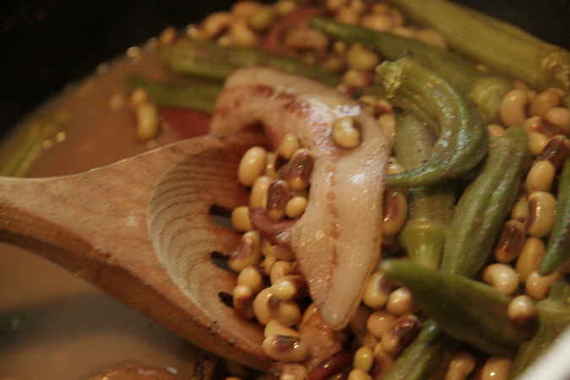 Yes, I know – I've been MIA for about a week now….its been a little crazy lately, with us buying a house and all, but no worries – I'M BACK!  I know all of my loyal readers have really missed me, (all three of you) and I've definitely missed the food blogging community too! I haven't been doing a lot of cooking lately, but my mom and I went to the Dallas Farmer's Market yesterday and stocked up on all kinds of fresh, delicious fruits and veggies – including a big bag of purple hull blackeyed peas, which I decided would be a good way to get back into the blogging groove!
Every summer, my mom always makes a big pot of blackeyed peas with okra- usually served with cornbread and fresh sliced tomatoes (a pretty typical southern meal) – its one of those summer meals I just couldn't live without! However, I've never actually made them myself! So when I saw that they had fresh peas and okra at the market – I decided now would be the perfect time to try my hand at them!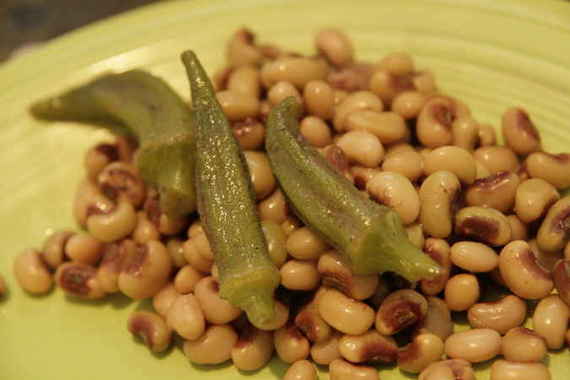 These peas are so easy to fix (after two or three phone calls to my mom making exactly sure how to do it) – just give them a good rinse, season with plenty of salt and pepper, throw them in a large pot with 3 – 4 thick slices of bacon and enough chicken broth to cover the peas, bring to a boil then lower the heat and simmer for about 2 hours or until tender. When they're pretty much done cooking, throw in some fresh okra and let them cook for about 10- 15 more minutes and you're done! I must say, this was one of the best batches of blackeyed peas I've had! And so easy!
Now, if you want to be REAL "southern" about it (the way my Daddy eats it), take a piece of cornbread, slice it in half and lay both sides on the plate; then cover the cornbread with a big spoonful of peas and PLENTY of the yummy "juice" (or "pot-lick" as we call it in my family – don't ask.) and you've got yourself a mighty tasty dish! However you decide to serve and eat your blackeyed peas – they're DELISH!