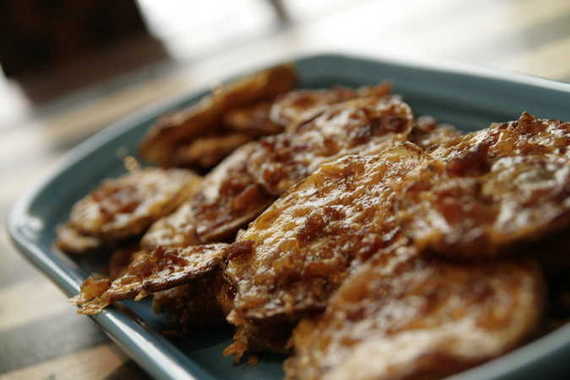 Sorry about the crummy pictures – these were kind of hard to photograph for some reason.  Anyway, I first heard about these potatoes from my sister sometime last year. Her husband and son are all about the "meat and potatoes", and she told me they gobbled these up when she first made them. They're really simple to make and taste REALLY good. But lemme just warn you, I don't recall ever seeing these potatoes in a Weight Watchers or Cooking Light recipe book…..they're not the healthiest of vegetable side dishes, but all things in moderation, right?
I made these for hubby and I on Labor Day to go along with turkey chili dogs – they worked great together! These would be great to bring to a barbeque or pot luck party – I'm telling you, everyone will love 'em!
Southwestern Potatoes
1 package bacon bits (the real kind – not "bacon flavored bits")
2 unpeeled large potatoes, scrubbed
3 tablespoons olive oil
1 teaspoon garlic salt
1 teaspoon black pepper
1/4 cup barbecue sauce (I used the hickory brown sugar kind)
1 cup shredded cheddar cheese
1/2 sour cream, optional (for dipping)
Line 2 large baking sheets with foil and preheat oven to 450 degrees.
Cut potatoes into 1/4 inch slices. Toss the potatoes, olive oil, garlic salt and pepper in a big ziploc bag to coat the potatoes. Arrange potatoes in a single layer on the baking sheets. Bake until lightly browned, about 15-20 minutes. Brush with barbecue sauce, then top with the shredded cheese and bacon bits. Bake until the cheese melts, about 3-5 minutes. Top with sour cream, if desired.