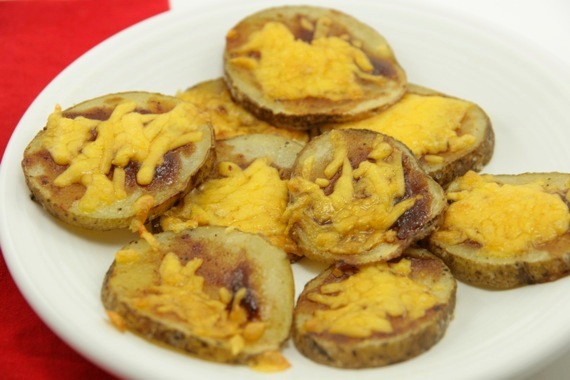 Pretty much everyone in my family or close circle of friends is well aware of my undying love for A-1 Sauce. I could eat it on just about anything…seriously. Growing up, anytime my dad would grill steaks, I would literally pour almost half a bottle of it all over my plate (including my baked potato) – over the years he learned not to be offended at me drowning his steaks in A-1; it's not personal – it's just what I do. 🙂 To this day, my favorite thing to eat A-1 on is my baked potato – I don't eat one without it. Which is how I arrived at these. I was making sausage, pepper and onion sandwiches (coming soon) and wanted to make my yummy Southwestern Potatoes for a side dish, only I discovered I had no barbeque sauce. I noticed a bottle of A-1 in the fridge and thought about how much I love A-1 on my baked potatoes…so why not try it on these? Bullseye! These were SO good (even though, judging by the picture, they don't look so appetizing…). We both gobbled these up in no time; and I can definitely say, I'll be making these again soon.
A-1 Potatoes
2 unpeeled large potatoes, scrubbed
3 tablespoons olive oil
1/2 teaspoon salt
1/2 teaspoon black pepper
1/4 cup A-1 Sauce
1 cup shredded cheddar cheese
1/2 sour cream, optional (for dipping)
Line a large baking sheet with foil and preheat oven to 450 degrees.
Cut potatoes into 1/4 inch slices. Toss the potatoes, olive oil, salt and pepper in a big ziploc bag to coat the potatoes. Arrange potatoes in a single layer on the baking sheets. Bake until lightly browned, about 15-20 minutes. Brush with A-1 Sauce, then top with the shredded cheese. Bake until the cheese melts, about 3-5 minutes. Top with sour cream, if desired.

*You want to go easy on the salt, since the A-1 already has so much salt in it.