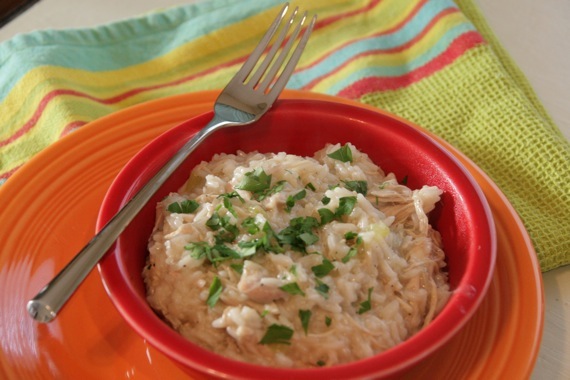 …or Chicken and Rice; whichever you prefer. I guess I should call it that since, clearly, I am not Spanish-speaking. But just saying something like, "I'm making Arroz con Pollo" sounds way more interesting (and yummy) than "chicken and rice". Who wants to eat chicken and rice when you can eat Arroz con Pollo?! I got this recipe from Amy at She Wears Many Hats and it's totally delicious!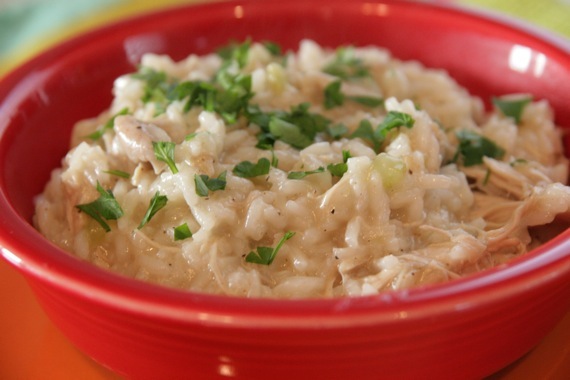 Honestly, the entire time I was making this I kept thinking (and laughing) about that episode of I Love Lucy where Lucy and Ethel switch jobs with Ricky and Fred. Ricky and Fred are in charge of cooking dinner while Lucy and Ethel are out working their new jobs (at the candy factory…love it!).  Ricky suggests Arroz con Pollo and chocolate cake for dinner, and of course it all goes wrong…seriously one of my favorite Lucy scenes of all time!
Arroz con Pollo (Chicken and Rice)
-adapted from She Wears Many Hats
4 quarts (16 cups) water approx. (enough to cover chicken)
1  4 lb. (approx.) whole chicken
1-2 stalks celery; rough chopped
1 small sweet onion; diced
1 teaspoon pepper – divided
1 teaspoon salt – divided
1/2 teaspoon celery salt
1 1/2 teaspoons parsley
3 cups long grain white rice
In a large stock pot bring water and chicken to a boil. Cover and reduce to a simmer for at least 1-2 hours.
Once simmering is complete, remove chicken to cool in order to de-bone. Let broth continue to simmer and reduce. When cool enough to handle, de-bone chicken.
Remove all broth from pot (or use another pot) and put approximately 6 cups broth back into pot along with the rice, chicken, celery, onion, salt and pepper. Cover and simmer for 15 minutes.
After 15 minutes stir in another cup of broth. Cover and simmer for 5 minutes.
Continue to add broth, stir, cover and simmer for 5 minutes at a time until rice is done. Check for seasoning and add more salt and pepper as needed. Serves 6-8.