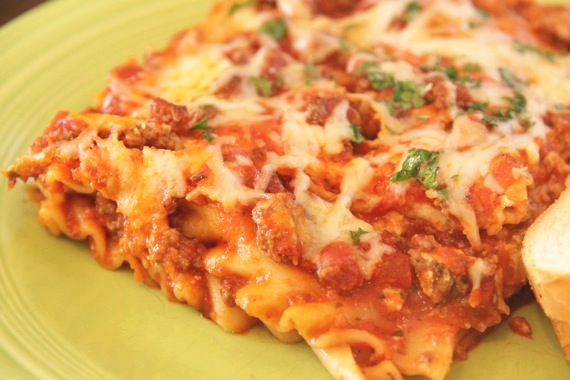 Ok, say you want really delicious, hearty lasagna for dinner but you don't have hours and hours to spend on it – this one's for you!  This is my Nana's recipe for lasagna and it's been a family favorite throughout the years. It's just perfect for busy moms and hard-working people who don't have the luxury of spending lots and lots of time in the kitchen for dinner. Since you don't have to cook the noodles beforehand, you can whip it up in practically no time and put a really delicious meal on the table for your kids or your hard-working man (I know my hard-working man really appreciates this- he loves a good lasagna!)! This was perfect for us because I was able to make it for dinner one night, then hubby could have the leftovers for his dinner on the nights I was gone for opera rehearsals (it makes a big 'ol pan full!). If you don't like the thought of using store-bought tomato sauce, by all means, use homemade. This is a perfect meal because it's really comforting, simple and hearty- a real comfort meal in half the time! Give it a try!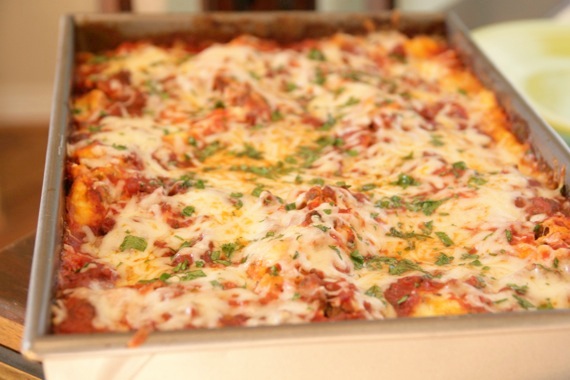 Nana's Lasagna
1 lb. lean ground beef
32 oz. spaghetti sauce (I used one 16-oz. jar Prego Traditional and one 16-oz. jar Prego Basil and Garlic)
1 1/2 cups water
2 cups (16 oz.) ricotta cheese
2 cups shredded mozzarella cheese (plus more for the top)
1/2 cup grated parmesan cheese
2 eggs
1/4 cup fresh parsley, chopped
1 tablespoon salt
1 teaspoon pepper
2 cloves garlic, minced
1 8-oz. pkg. lasagna noodles- uncooked
Preheat oven to 350 degrees. Brown meat and drain off fat. Add spaghetti sauce and water. Simmer for 10 minutes. Set aside. Combine ricotta, mozzarella, parmesan, eggs, parsley, salt, pepper and garlic and set aside.  In a greased 9×13 pan, pour approx. 1/2 cup meat sauce; cover with a layer of lasagna noodles. Cover with approx. 1 1/2 cups meat sauce; spread half of cheese mixture over the sauce (don't worry if the layers mix a tiny bit). Repeat layers. Top with the remaining meat sauce. Cover with foil and bake for 55-60 minutes. Remove foil and top with remaining mozzarella cheese; bake for an addition 5-10 minutes. Let stand for at least 10 minutes before serving.