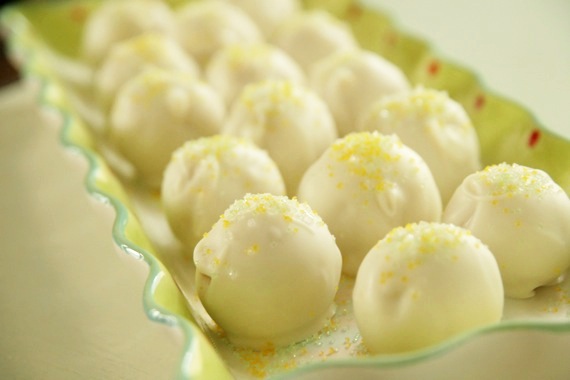 No doubt you've heard of cake balls, and Oreo truffles, and cookie dough truffles; and most likely, you've even made your own cake balls, Oreo truffles, etc. I know I've definitely made my fair share of all kinds. And that's exactly what these are- more 'dessert balls'. But these are oh-so much better than the run-of-the-mill Oreo truffles or cake balls! You all know how Oreo truffles work- crushed up Oreos, cream cheese and chocolate coating. These are essentially the same thing, except made with freshly baked sugar cookies and the zest and juice of lemon and lime. I must say….pretty darn tasty. These taste like key lime pie- they're super tart, chewy and insanely rich. As soon as my hubby got home from work, I immediately shoved one into his mouth and his exact response was, "oh my gosh, these are AWESOME!!!" My family was inclined to agree- since there were so many, my grandmother took them to my aunt and uncle's house where they were quickly devoured (so I'm told). They even passed the test of all tests- my cousin Ethan loved them. If Ethan loved them- they've got to be good! I have big plans to try these in all kinds of flavors- strawberry, peach, maybe even apricot. But for now, the lemon-lime is the flavor of choice!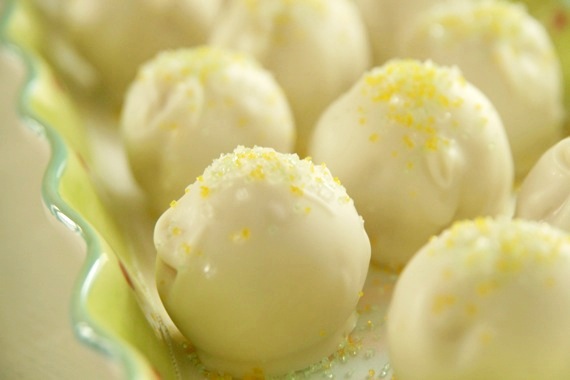 Lemon-Lime Sugar Cookie Truffles
1 batch of sugar cookie dough (I used a store-bought mix, but you can use any recipe you like!)
zest and juice of 1 large lemon and 1 large lime
1 1/2 blocks cream cheese (12 ounces) at room temperature
1 package white chocolate candy coating
colored sprinkles or coarse sugar, for garnish
Preheat oven to 350 degrees. Prepare the cookie dough as directed on package or recipe; add in the zest and juice of the lemon and lime and mix well. Spread the cookie dough in a greased 9×9 baking dish and bake for 30-40 minutes, or until cookies are fully baked. Cool completely.
When cookies are cooled, using your hands, remove from the dish and crumble into the bowl of a stand mixer or food processor (small chunks are fine). Add in the cream cheese and mix until the cookie crumbs and cream cheese are completely mixed together. Roll into 1-1 1/2 inch balls and refrigerate for at least 1 hour.
When the balls are thoroughly chilled, melt the white chocolate candy coating in the microwave, or over a double boiler. Carefully dip each ball into the white chocolate and turn to coat. Remove with a tooth pick and set on a cookie sheet lined with wax paper. Top with sprinkles. Repeat until all the balls are coated. Store in the refrigerator.