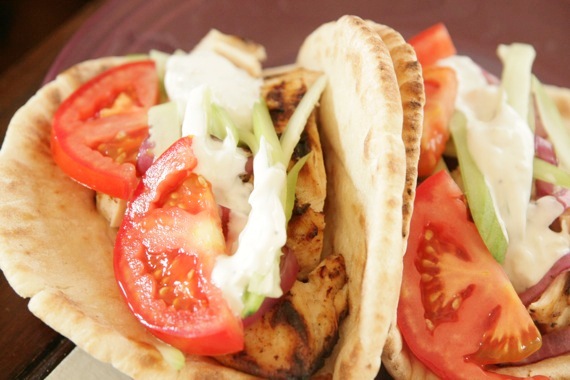 Those of you who have followed me for awhile know how much I looooove Greek food. Anything even remotely "Greek-tasting" is a winner in my book! Especially Gyros (pronounced "yee-rohz"). Oh man, oh man…I could go on and on about Gyros. The first one I ever tasted (ever heard of, actually) was in Vienna. Street vendors were selling them everywhere and that giant, rotating slab of meat looked pretty good to me, so I tried it. The meat was juicy, spicy and ohmigosh-so flavorful, and it was topped with a cool, cucumbery yogurt sauce, called Tzatziki; all served up in a warm, soft pita bread with tomatoes, onions and cucumbers. Heaven in hand-held form. I was absolutely smitten from there on. Since then, I'll eat a Gyro every chance I get! And now, luckily, I can make them at home anytime I like! I just happen to see this recipe over at Made By Mel, who saw it on Elly Says Opa! (the queen of Greek food!) and turned around and made it that night! Like I said earlier, typically, Gyros are made with lamb or beef or both, but this recipe calls for chicken, which makes it so quick and easy!
The Tzatziki is especially delicious- almost like a garlic-y (much, much lighter) Ranch dressing. If you have any left over, it makes a great dip for veggies or a nice sauce for grilled chicken or steak. It's so versatile!
Chicken Gyros
-seen on Made by Mel, originally from Elly Says Opa!
2 Cloves Garlic, smashed
Juice of 1 Lemon
2 teaspoons Red Wine Vinegar
2 tablespoons Extra Virgin Olive Oil
2 heaping tablespoons Plain or Greek Yogurt
1 tablespoon Dried Oregano
1 pound boneless, skinless chicken breasts
Salt and Pepper
Tzatziki (see below)
sliced tomatoes
sliced red onions
Pita Bread
Whisk together the garlic, lemon juice, vinegar, oil, yogurt, and oregano in a bowl. Add the chicken and rub the marinade in. Cover and refrigerate for at least an hour.
Preheat the grill to medium heat (or broiler, or pan on the stove).  Sprinkle the chicken with salt and pepper on both sides, and then grill until cooked through, about 5 minutes per side, depending  what size/type chicken you are using. Allow the chicken to rest for a few minutes before slicing into strips.
Meanwhile, heat your pitas in a fry pan, in the toaster or spray with a bit of oil and place right on a gas burner. Top the pita with the chicken, tzatziki, tomatoes and onions. *I grilled my onions since I don't really like them raw- it added a great layer of flavor! (I also added some thinly sliced cucumbers)
Tzatziki
16 oz. of plain or Greek yogurt (preferably not fat free)
1/2 hothouse cucumber or 1 regular cucumber, peeled and seeded
2-3 cloves garlic, minced
1/2-1 teaspoon white wine vinegar
salt and pepper
squeeze of fresh lemon juice
drizzle of extra virgin olive oil
Strain yogurt using a cheesecloth over a bowl for several hours or overnight to get out as much moisture as possible. (Since I was using Greek yogurt which was already quite thick, I skipped this step and it came out the perfect consistency)
Shred the cucumbers and then wrap in a towel and squeeze to remove as much moisture as possible. Don't skip this step!
Mix together the strained yogurt, shredded cucumbers, garlic, vinegar and lemon juice. Add salt and pepper to taste. It's best to refrigerate for 30 minutes or more before serving, so flavors can meld.
Drizzle a little olive oil over the top.