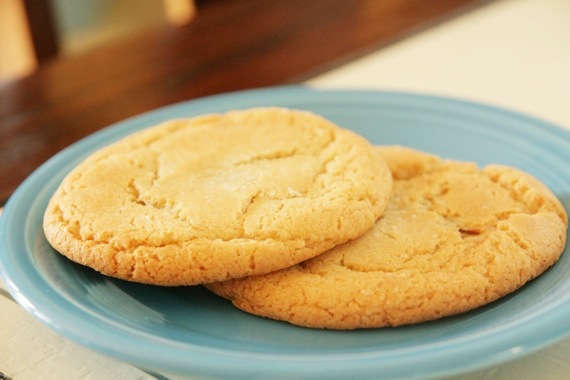 You see these cookies? They look like pretty average, plain 'ol cookies, don't they? Well. You're in for a treat, my friends, because these are NO average cookies! These have a special secret lurking within…just waiting to be discovered. All it takes is one bite………….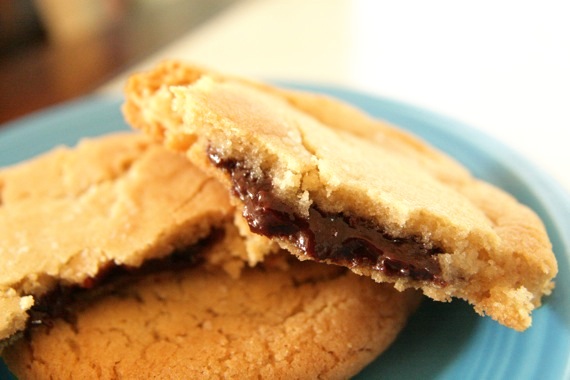 Aaaaand BOOM, BABY!! Gooey, warm, flowing chocolate right in the center! One bite and suddenly you're in heaven. Chocolate heaven. The cookie is warm, soft and chewy; and when it's accompanied by the soft, melty chocolate in the center, it's just pure bliss. I got the idea for these the other night while trying to sleep (that happens a lot- most people count sheep; I think up cookie ideas)- I was thinking about how much I love chocolate chip cookies, and somehow I ended up with these in mind. They're really, really simple to make – just whip up some quick ganache (chocolate and heavy cream), then whip up your favorite chocolate chip cookie dough (sans chocolate chips), stuff the dough with the ganache and you're done (practically). Unfortunately I couldn't think up a really clever, delicious-sounding name for these (although hubby suggested I call them "Transformer Cookies", since there's more than meets the eye……yep, that's who I married, folks) – but I think Chocolate Ganache-Stuffed Cookies will do nicely.
Chocolate Ganache-Stuffed Cookies
1 batch chocolate chip cookie dough, without the chocolate chips (any recipe you want- I used this one)
1/2 cup heavy cream
1 cup (approx. 6 oz.) chocolate chips
pinch of sugar
salt for sprinkling
Preheat oven to 350 degrees. Heat heavy cream and sugar in a small pan over medium heat until boiling; pour over the chocolate chips. Let sit for a few seconds then stir to combine.  Chill for at least one hour.
Make the cookie dough according to desired recipe. Chill.
To assemble: using a small cookie scoop or a spoon, scoop out some dough- flatten with the palm of your hand and place a small spoonful of ganache in the center. Cover with another scoop of flattened dough and seal the edges (you'll have a small disk), then gently roll into a ball. Place on a baking sheet lined with parchment paper. Sprinkle with sea salt. Place each cookie at least 2 inches apart on cookie sheet.
Bake for 12-15 minutes, or until cookies are golden brown. If you're like me, you'll eat them hot out of the oven, but my husband likes them better when they're completely cooled. Enjoy!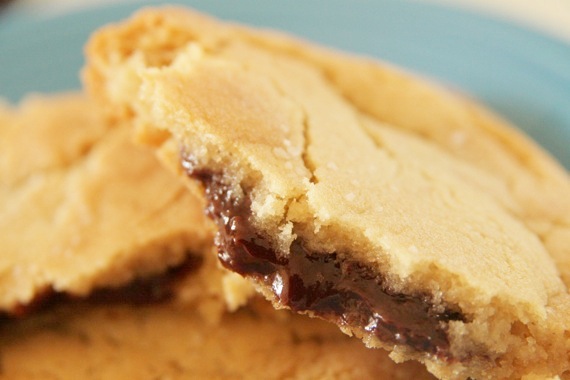 These cookies are seriously the best thing to come out of my oven in a long time- they're perfectly, wonderfully, simply delicious!