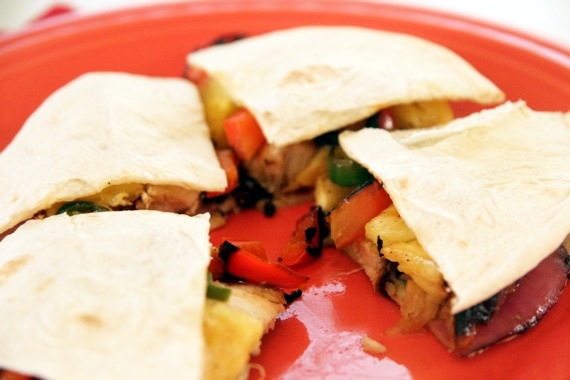 I just want to start off by saying, there are tons and tons of food blogs out there. Many with better pictures than mine, better writing skills, and just better overall food-blogginess; yet you're here right now, reading mine. So thanks. Thanks for sticking with me and reading my silly posts and taking the time to comment- it really makes my day. My pictures may not be crystal clear and totally flawless, but you know what? I sort of like them that way- that's exactly how our food looks before we sit down and dig in. I don't spend an hour adding tiny pieces of parsley, or taking a cloth and wiping away stray crumbs or melted cheese that doesn't belong. I like stray crumbs. 🙂 And I like my blog. And I'm thrilled beyond words that you like it too. So again, thanks. Thanks for being really fantastic readers. I really, really love you all.
Ok, now that I'm done being sappy- here is a fantastic recipe for quesadillas. We made these this weekend and ate like big-fat-pigs! I was originally going to make these (do those not look insanely delicious?! I can't wait to try them!), but didn't have any bbq sauce. Then I remembered how much we adored the chicken kabobs I made a few weeks ago, and decided to just make quesadillas out of them (Good call, Amy!). These were cheesy, slightly sweet, a little spicy….a totally delicious meal! Can't wait to make them again!
Grilled Chicken, Pineapple and Veggie Quesadillas

2 boneless, skinless chicken breasts
1/2 cup Lime Ponzu, plus more for brushing (If you don't have this, just use soy sauce, a pinch of sugar and a little lime juice)
fresh pineapple, sliced (you'll only need about 1/4 of the whole pineapple)
1 red bell pepper, cut into slices
1 red onion, sliced into rings
1 jalapeno pepper
pepperjack cheese
cilantro
large tortillas
Place the chicken in a large ziploc bag with 1/2 cup of the ponzu and refrigerate for at least 2 hours.
After 2 hours, grill the chicken over medium-high heat (about 5 minutes on each side). When the chicken is nearly done, add the peppers, onion and pineapple to the grill and brush with the additional ponzu while cooking. Turn only once and remove as soon as the chicken is done cooking.
Let the chicken rest for 5 minutes, then slice diagonally.
To assemble: preheat the oven to 400 degrees. Sprinkle a little pepperjack cheese on two tortillas (as much as you like- I used about 1/3 cup for each), then top with the sliced chicken, pineapple, peppers and onion. Top with a sprinkling of cilantro then place another tortilla on top of each. Bake for about 5 minutes, just long enough for the cheese to melt.
Cut quesadillas into 4 pieces. Serves 2.
*To keep the edges of the tortillas from curling up on the sides, dip your finger in a little water and brush along the outer edge of the tortilla just before baking.