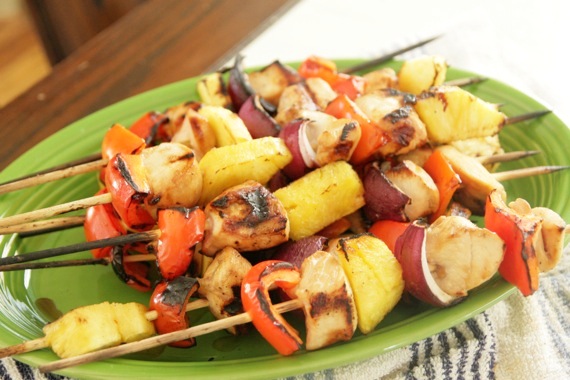 In the Summertime, you grill. Period. If you don't know how to grill, you better learn, because as far as I'm concerned, it's not Summer without grillin'. Of course, that's just my own personal opinion; I have lots of them. Probably way too many. Just ask my hubby. Or my mom. Or my second grade teacher.
Honestly, one of my favorite grilled things to eat is chicken breast marinated in my favorite marinade, Lime Ponzu. It's so amazingly simple, and the chicken turns out so sweet and juicy. We were having company recently and I thought the Ponzu marinated chicken would be great to serve along with my grilled corn salad and pineapple rice. Then I took it a step further and thought, "why not do a Ponzu shish-kabob with red peppers, red onions and pineapple?" Perfect! So that's what we did and boy am I glad! Those kabobs were amazing! The chicken was perfectly tender and juicy, and the peppers, onions and fresh pineapple paired so well with the Ponzu- almost kind of a "Hawaiian" flavor. Totally delicious! We've made them twice since then! If you're looking for a great grilling meal- look no further, because these are as easy as they come, yet really, really flavorful and delicious!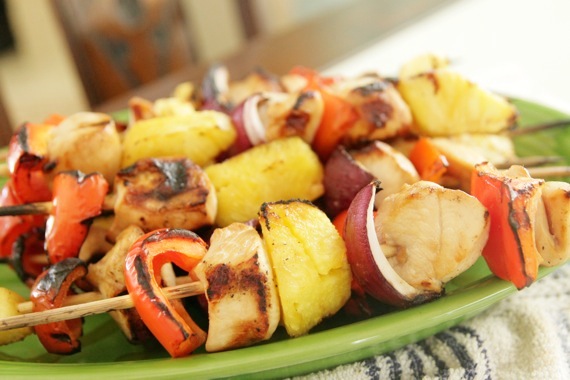 Easy Grilled Chicken Shish-Kabobs
4 boneless, skinless chicken breasts, cut into 1 1/2-inch cubes
1/2-3/4 cup Lime Ponzu (You can find this in the Asian section of the grocery store, next to the soy sauce)
3 red peppers, cut into 1 1/2-inch pieces
1 large red onion, cut into 1 1/2-inch pieces
1 fresh pineapple, cut into 1 1/2-inch chunks
freshly ground black pepper to taste
skewers (wooden or metal- if you use wooden, make sure to soak them in water for at least 30 minutes before grilling so they won't catch on fire)

Place the cut up chicken in a large ziploc bag with the marinade. (*Save 2 or 3 tablespoons of the Ponzu for later use.) Refrigerate for at least 1-2 hours.
Take out the chicken and dispose of the marinade. To assemble the kabobs, place the red pepper first, then the chicken, then the pineapple, then the onion, then repeat with the same order. Try to fit two of everything on each skewer. You'll end up with around 12-14 skewers.
Grill the kabobs over medium-high heat for about 8-11 minutes, turning 3 or 4 times, until the chicken is cooked through. Occasionally brush with the reserved marinade and season with the pepper. Remove from heat. Serve with rice and a cold salad and enjoy! Serves 4-6.