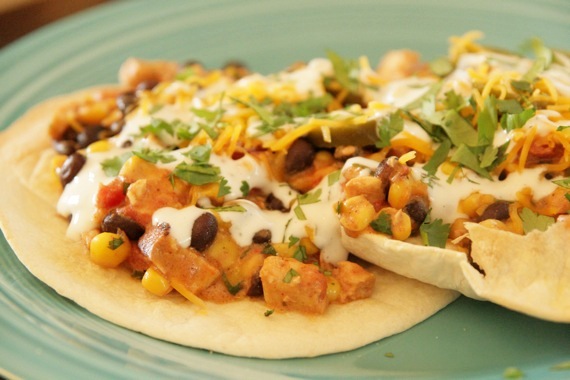 I always, always, always have cans of black beans, diced tomatoes and Mexi-corn in my pantry (Mexi-corn is just canned corn with chopped red and green peppers). They can transform pretty much anything into a spicy, fun, Tex-Mexy meal- which we just love. The other night I had some leftover grilled chicken breasts that were really tasty and I wanted to use them up. This dish was born. It started out just a way for me to use up leftovers and pantry staples, but ended up being one heck of a delicious meal- we couldn't get enough of it! In fact, I can't wait to make it again- it was SO easy and really, really delicious. The Ranch dressing really give it a fantastic flavor! If you find yourself in need of a recipe to use up leftover chicken, steak, ground beef, or whatever you have- this is for you! Give it a try!
Southwestern Skillet
2 fully cooked chicken breasts, diced into small pieces
1 can black beans
1 can Mex-corn (regular corn would work just fine too)
1 can petite diced tomatoes
1/2 red onion, diced
handful chopped cilantro (reserve some for the top)
1 packet taco seasoning (I didn't use the entire packet, but if you feel like you want more spice, add the whole thing)
1/2 cup sour cream
1/2 shredded cheddar cheese (reserve some for the top)
2 large or 4 small tortillas
Ranch dressing
jarred pickled jalapenos
*Feel free to add in any additional vegetables you have on hand- bell peppers would work great, or even zucchini or potatoes.

Preheat the oven to 400 degrees. In a large skillet over medium heat, cook the diced onion until translucent; add the chicken, beans, corn, tomatoes, cilantro, taco seasoning, sour cream and cheese. Stir to combine. Cook for 4-5 minutes, until the cheese melts.
Spray the tortillas with cooking spray and place on a baking sheet; bake for 5 minutes or until golden brown and slightly crisp.
Top the tortillas with the skillet mixture then drizzle with ranch dressing. Top with jalapenos, cilantro and cheese. Serves 2-3. Enjoy! We sure did!