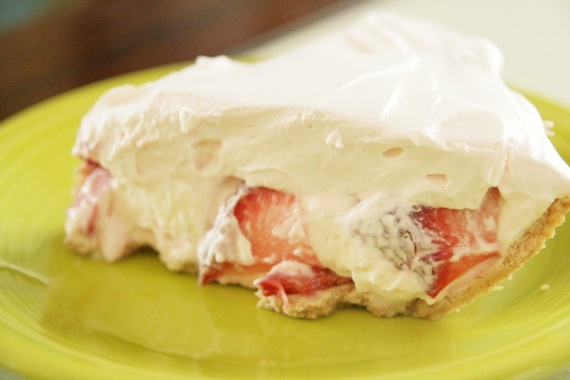 For August's 'You Want Pies With That?' challenge, Branny decided we should create a pie that represents our personality. How fun is that?! As soon as I saw her choice, I immediately started thinking about how I could come up with an A.D.D. pie. However, with us getting ready to go on a trip, and things being so busy and with me being so, well….A.D.D., it just didn't work out for me to devote the time I needed for my A.D.D. pie (bummer- that would've been perfect). So instead, I asked my hubby what he thought was the best way to describe my personality; "sunny and bright", he said with a smile (isn't he sweet?). Although I'm not sure about "sunny and bright"….more like, "sunny and bright with a likely chance of severe thunderstorms"; I went to work on a pie that fit the bill. Somehow I ended up with a Strawberry-Lemonade Pie, then I took it a step further and came up with a Strawberry-Lemonade Cheesecake Pie. Muuuuch better (and really, really delicious!)! So anyway, this is the pie that best fits my personality (according to my husband….who is apparently blinded by love…).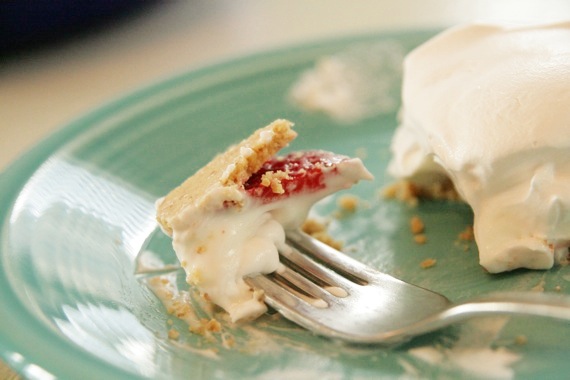 Sunny and Bright Strawberry-Lemonade Cheesecake Pie with Chambord Whipped Cream
For the pie:
1 graham cracker crust (your favorite recipe or store-bought)
1 8-oz. block of cream cheese, at room temperature
10-15 strawberries, hulled and sliced
juice of 2 large lemons
1/3 cup sugar
1 teaspoon vanilla extract
1/4 cup sour cream
1/2 cup heavy cream
splash orange liqueur, such as Triple Sec or Grand Marnier
For the Chambord Whipped cream:
1 cup heavy cream
1/3 cup sugar
1 tablespoon Chambord (Raspberry liqueur)
1 teaspoon vanilla extract
In the bowl of an electric mixer, add the cream cheese, sugar and sour cream and beat at medium speed for 2 minutes, until the cream cheese is smooth. Add in the lemon juice, vanilla extract and orange liqueur. Mix just until combined. Transfer to another bowl and use the mixer bowl to whip the cream. Beat the 1/2 cup heavy cream at medium speed until stiff peaks form. Gently fold the whipped cream into the cheesecake mixture. Refrigerate until needed.
To make the Chambord Whipped Cream Topping:
Beat the 1 cup of heavy cream, 1/3 cup sugar, Chambord and vanilla extract on medium speed until stiff peaks form. Refrigerate until needed.
To assemble:
In the prepared graham cracker crust, place half of the sliced strawberries in a single layer. Top with the cheesecake mixture; add another layer of sliced strawberries, then top with the Chambord whipped cream. Garnish with additional strawberries. Chill for at least 2 hours before serving. The pie is best served on the day its made.
*The liqueur is optional- it just adds a little extra flavor, but you can certainly leave it out if you want!