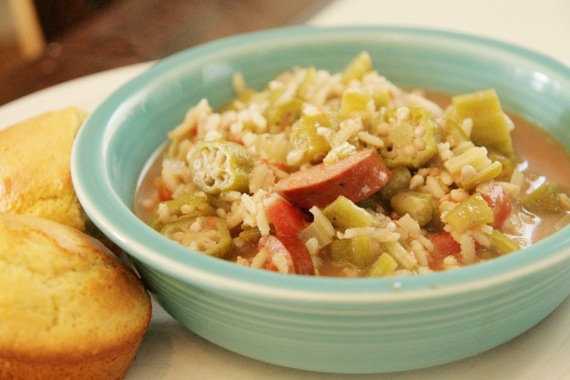 I tend to forget about Cajun food. It's pretty simple and straight-forward and always totally delicious, yet for some reason, I never think about making it. However, every time I do, I always think to myself, "I really should make this more often!".  Just one of those things, I guess. But not anymore! I promise, dear Cajun food, that I won't neglect you anymore!
Now, I know I already have a recipe for okra gumbo posted, but this one is a teensy bit more involved and more complex than the other. Plus, it's pretty much an entirely different recipe, and I thought you should have both! This isn't a real, honest-to-goodness 'Nawlins style gumbo that starts with a roux. Honestly, I'm not a big fan of that "deep" (*cough* burnt) flavor it gives, so I started mine with some good 'ol bacon grease (to all my gumbo aficionados out there, please don't hate me). I sort of just threw some things together and ended up with one fantastic tasting gumbo! The great news is, this made a giant pot, so we had enough for 2 meals!
Sausage and Okra Gumbo
3 or 4 strips bacon
1 small onion, chopped
1 bell pepper, chopped
3 stalks celery, chopped
1 15-oz. can chopped tomatoes
1 bag frozen okra (I don't actually know the size- it's probably around 4-6 cups), thawed
1 package fully cooked turkey sausage (14 oz.), cut into 1-inch pieces
1 cup rice
2 bay leaves
1 1/2 teaspoons Old Bay seasoning
1 teaspoon Tony Chachere's seasoning
4 cups chicken broth
salt and pepper to taste (you won't need much salt at all since Tony C. has salt in it)
Cook rice according to instructions on packaging. In a large dutch oven or stock pot, heat the bacon over medium heat and render fat. Remove the bacon and set aside. Add onion, pepper and celery and cook for 7-10 minutes, or until onions are slightly translucent. Add tomatoes (with their juice), okra, seasonings and chicken broth. Add the bacon back to the pot. Bring to a boil and reduce heat to low. Add sausage and rice. Cook for 10-15 more minutes (if it gets too thick for your liking, feel free to add a little more chicken broth or even a little water). Remove the bacon and bay leaves and serve.
*The okra can be a little "slimy" sometimes; adding a splash of white vinegar at the end helps to cut through the sliminess, and you'll never know it's there.