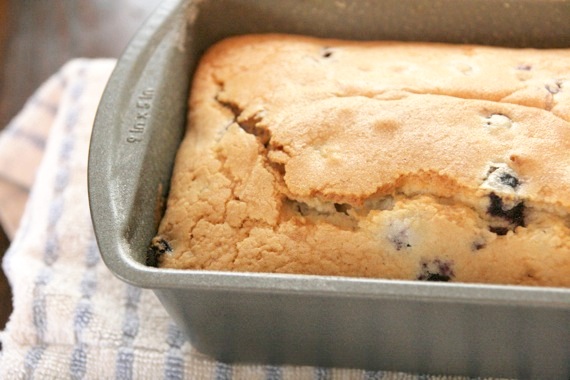 Anybody who knows me, reads my blog, or has been in a room with me for at least 3 seconds knows that I crave chocolaty, rich, over-sweet desserts (well, that and the fact that I'm a little weird and kind of "all over the place", but that's neither here nor there); but lately, I've had a taste for something different. I've never been a huge fan of those desserts that are only a little sweet (i.e. pound cake), but yesterday, the craving hit and I decided it was imperative that I bake a pound cake. For some reason I was craving that slightly sweet, dense, buttery taste that comes only from a pound cake. And, as luck would have it, I remembered some gorgeous blueberries I had bought and frozen earlier in the summer. Perfect. I chose Paula Deen's recipe for her mama's pound cake (if P.D.'s mom made it, it's probably really good). I was more than pleasantly surprised. I had a piece warm out of the oven with a little (ok, a lot) of butter smeared on it….heavens to Betsy! My craving was satisfied. This was one fantastic pound cake! The blueberries don't add a lot of extra sweetness- just a fresh, subtle blueberry flavor that goes perfectly with the buttery, tender cake. I'm in love, I tell you!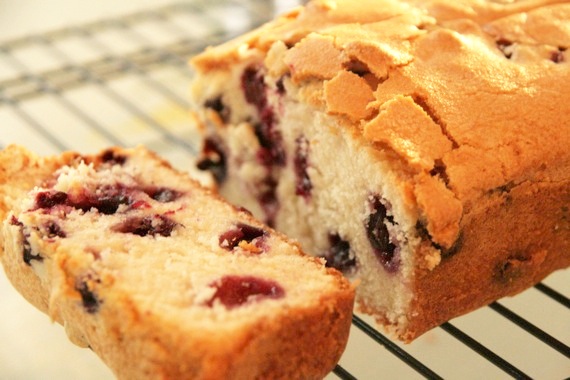 Blueberry Pound Cake
-adapted from Paula Deen
1 stick butter, plus more for pan
1/4 cup vegetable shortening
1 1/2 cups sugar
3 eggs
1 1/2 cups all-purpose flour, plus more for pan
1/2 teaspoon salt
1/4 teaspoon baking powder
1/2 cup milk
1 teaspoon vanilla extract
1 heaping cup fresh blueberries (If you're using frozen, don't thaw beforehand)
Preheat oven to 350 degrees.
With a mixer, cream butter and shortening together. Add sugar, a little at a time. Add eggs, 1 at a time, beating after each addition. Stir dry ingredients together in a bowl and add to mixer alternately with milk, starting with the flour and ending with the flour. Mix in vanilla. Gently fold in the blueberries. Pour into a greased and floured 9×5 loaf pan and bake for 60-70 minutes, until a toothpick inserted in the center of the cake comes out clean.
*Toss the blueberries with a little flour before stirring them into the batter- this keeps them from sinking to the bottom during baking.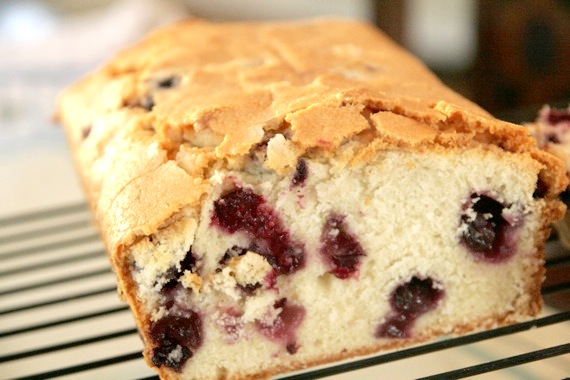 I don't know if you can tell from the picture (that was my hope), but this cake is incredibly moist and has a beautiful, tender crumb! SO good!