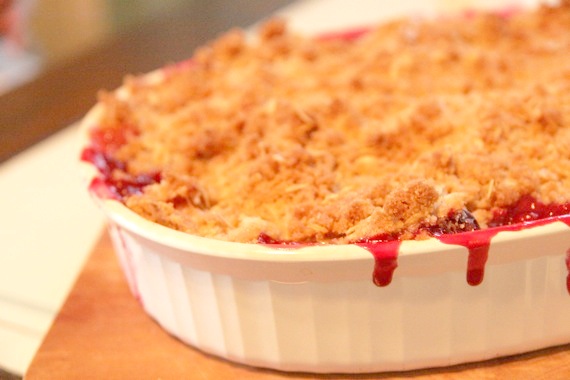 First of all, I know this is a terrible picture, but I just HAD to share this recipe with you!! We had our good friends Sean and Shelby (and their little boy Colin and dog Fancy) over for dinner the other night and I served this for dessert – WOW, was it good! Once again, Ina Garten doesn't disappoint- this is her recipe and it's delicious! The top was so crunchy and buttery and the inside was thick and gooey (YUM). I even cut back on the butter and sugar and it was still SO rich and sweet! Served with a scoop of vanilla ice cream, it just doesn't get much better…..
Plum Crunch
-adapted from Ina Garten
3 pounds black plums, pitted and quartered
1/2 cup sugar
1/4 cup all-purpose flour
juice of half a lemon
For the topping:
1 1/2 cups all-purpose flour
1/2 cup granulated sugar
3/4 cup light brown sugar, lightly packed
1/2 teaspoon kosher salt
1 cup oatmeal
12 tablespoons (1 1/2 sticks) cold unsalted butter, diced
Vanilla ice cream, for serving
Preheat the oven to 375 degrees F.
For the fruit, in a large bowl, combine the plums, sugar, flour, and lemon juice. Pour the mixture into a 12 by 8-inch shallow baking dish.
For the topping, combine the flour, granulated sugar, brown sugar, salt, oatmeal, and butter in the bowl of an electric mixer fitted with the paddle attachment. Mix on low speed until the mixture is crumbly and the butter is the size of peas. Scatter evenly over the plum mixture.
Bake the plum crunch for 40 to 45 minutes, until the plums are bubbling and the top is browned. Serve warm or at room temperature with ice cream.