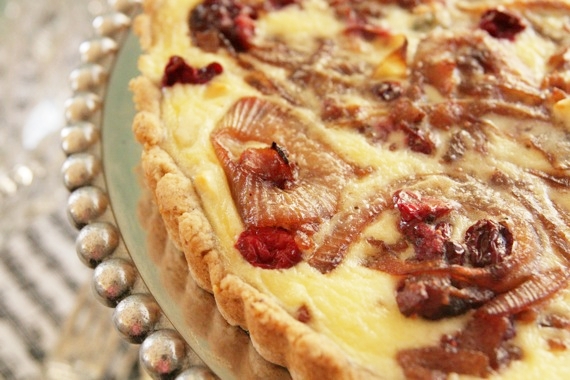 I made this for my Project Food Blog 'Luxury Dinner Party' and it was a HIT! I know the combination might seem a bit weird for some, but believe me when I tell you it's totally delicious!! Hubby and I first tried this at the Dallas State Fair, of all places (weird, right?) about 4 years ago. There was a local chef there doing a cooking demonstration and this was the dish she made for us. When it came time to taste it, I took a sample, only because I didn't want to hurt her feelings- but the truth was, I hated onions and wasn't eager to try this at ALL. Finally I decided to get over my childishness and just go for it- thank goodness I did, because I discovered a winner of a recipe that day. There's something about the tartness of the cranberries that pairs so well with the bacon and sweet caramelized onions. And the gorgonzola adds just a hint of extra flavor- it's SO amazing!! This would be a perfect dish to add to your Thanksgiving table this year!
Needless to say, this was an enormous hit at my dinner party the other night- and since posting pictures from my party, this is the recipe everyone can't wait to get their hands on. Well here it is, folks: a delicious Caramelized Onion-Cranberry Tart with Bacon and Gorgonzola – enjoy!!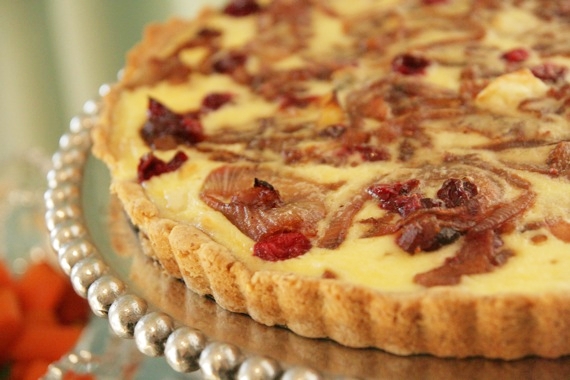 Caramelized Onion-Cranberry Tart with Bacon and Gorgonzola
–Kathleen's Sky Diner in Dallas, TX
For the crust:
1 cup flour
2/3 cup walnuts, roughly chopped
1 tablespoon sugar
1/2 teaspoon salt
1/2 teaspoon dry mustard
pinch cayenne pepper
6 tablespoons butter, cold and cubed
1 tablespoon milk
In a food processor, pulse dry ingredients; add butter until ingredients are the size of small peas. Add milk and pulse just until dough comes together in a ball. Do not overprices.
Press dough into a 9-inch tart pan with removable bottom until even and smooth. Prick crust with a fork and freeze for 30 minutes or refrigerate at least 2 hours or overnight.
Bake chilled crust at 375 degrees for 15 minutes, or until golden brown. Make filling.
Filling:
4 slices bacon, cut into small pieces
2 small-medium onions, thinly sliced
1/2 teaspoon salt
1/4 teaspoon pepper
1 cup cranberries (fresh or frozen- if frozen, don't worry about thawing)
2 tablespoons sugar
2 eggs
3/4 cup heavy cream
1/3 cup crumbled gorgonzola cheese (blue cheese would work as well)
In a saucepan over medium heat, sauté the bacon until crisp. Drain bacon on paper towels and pour off all but 3 tablespoons of fat. Add the onions to the pan and cook for 15-20 minutes, until soft and caramelized. Add cranberries and sugar and continue to cook on low heat until cranberries begin to 'pop' (they will literally pop in the pan!); season with salt and pepper; add the bacon back in and set aside.
In a bowl, whisk eggs and heavy cream together until smooth. Place the onion/cranberry mixture in the bottom of the cooked crust, crumble the gorgonzola on top, then pour the egg mixture last. Bake tart at 350 degrees until golden brown and center is set, about 20-30 minutes. Serve warm or cold.