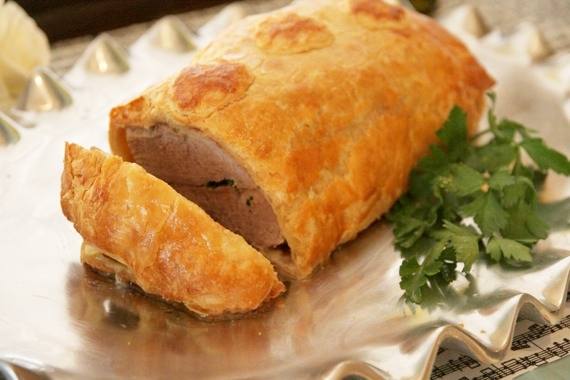 Here's the main dish I served at my luxury dinner party the other night. This was everyone's favorite dish. Honestly, I wasn't quite sure at first how this would turn out, but the end result was impressive, elegant and most importantly, delicious!  The pastry keeps the pork incredibly moist and juicy and the fresh parsley gives a nice bright flavor that really adds to the dish. It's amazingly simple to put together and doesn't take long to cook- a perfect dish for an elegant dinner party!
Stuffed Pork Wellington
-adapted from Texas the Beautiful Cookbook
2 pork tenderloins of equal size (about 2 1/2 – 3 pounds all together)
salt and freshly ground pepper
1 teaspoon dried rosemary, chopped
3/4 cup fresh parsley, chopped
2 tablespoons butter, softened
2 tablespoons grated parmesan cheese
extra 2 tablespoons butter
1 sheet frozen puff pastry, thawed
1 egg+ 1 splash heavy cream, beaten together, for egg wash
Flatten pork tenderloins between two pieces of plastic wrap and season with salt and pepper.
Mix together the parsley, 2 tablespoons of softened butter, parmesan, rosemary and salt and pepper to taste (essentially, you're making a paste).
Spread mixture on one of the tenderloins, top with the other tenderloin and press together firmly. Tie into place with white string.
Heat the other 2 tablespoons of butter in a skillet and brown the tenderloins well on both sides (about 2 minutes per side) over medium-high heat. Remove, allow to cool slightly and remove string.
Flour a large surface and a rolling pin and roll the puff pastry out into a rectangle large enough to wrap around the tenderloins. Place the tenderloins on the pastry, moisten the edges with the egg wash and press firmly together to enclose the tenderloins completely.  If desired, make decorations from any surplus pastry, moisten and press into place on top. Brush all over with egg wash.
Arrange on a baking sheet lined with parchment paper and bake in a preheated 400 degree oven for 20 minutes. Reduce heat to 350 degrees and bake for an additional 20 minutes (if pastry is browning too quickly, place a foil tent over it). Let rest for 10 minutes before cutting. Serve hot, cut into thick slices. Serves 4-6.