Here I am again (and honestly, I just can't believe it!), thanking you all for your continued support through Project Food Blog. I'm just blown away by your unfailing sweet, generous comments, encouragement and your votes. You are all truly wonderful readers…I am SO lucky to have you!! THANK YOU!!!
Ok, so here's the challenge for Round 4: Sure, you can take a pretty picture. But your task here is to go above and beyond and use photography to create a step-by-step, instructional photo tutorial. It could be anything from how to bone a chicken to how to make your favorite recipe, but your photos need to guide the reader through the steps.
Honestly, at first, I thought this challenge would be a cinch. "Eh, what's a few extra pictures?" However, it didn't take long (about 12 seconds) for me to discover one very simple factor: step-by-step photos are HARD. For an A.D.D girl, something as simple as taking a few extra photos of the cooking process can be DAUNTING. I found myself running all over the kitchen, dining room and living room trying to get lists together, compiling my ingredients, writing down every single step of each recipe and trying to get my camera settings figured out (it takes awhile to do step-by-step photos, and your lighting is changing constantly- if you don't change your camera settings accordingly, your pictures will absolutely start to suck). So needless to say, this has been the hardest challenge for me BY FAR. But, I barreled through and got it done- and came out with two totally awesome and delicious recipes to share with you! Yay me!!
For this challenge, I decided to do the kind of food that makes me happy (and my hubby!)- nachos. It was a very BIG game day in Texas today- the Aggies were playing a big game (who am I kidding, every game is a big game at our house!), then the Rangers with a playoff game after that. Needless to say, we needed game day food and we needed it bad. Just one kind of nacho wouldn't be enough. I decided on two different kinds: Tequila Lime Chicken Nachos and Bananas Foster Nachos (yes, bananas foster- and let me just say….I've come up with a doozy.) So let's open with recipe #1! This is how my family makes nachos- just layer on your favorite flavors. It's great with seasoned ground beef, shredded chicken, or even meatless! I decided shredded chicken with a little tequila and lime juice would be perfect (and it was!)! Let's get started!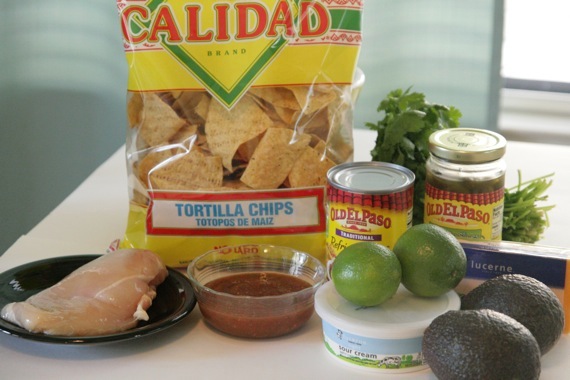 You'll need: 1 chicken breast, tortilla chips, a can of refried beans, shredded cheddar cheese, cilantro, jalapeno peppers, limes, sour cream, guacamole and salsa, salt and pepper and tequila (not pictured…oops).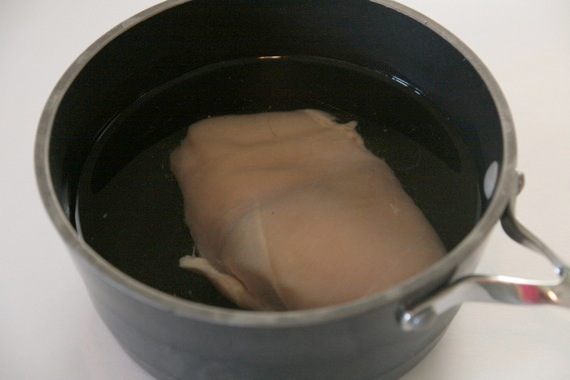 Put the chicken in a small pot, cover with water and bring to a boil. Cook for about 10-15 minutes, until the chicken is cooked through.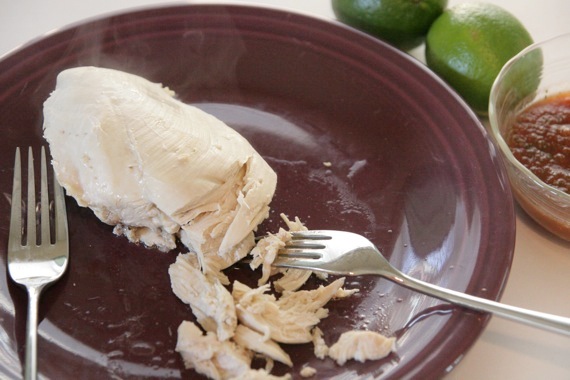 Remove from water and shred with two forks. Toss with 1 tablespoon tequila, the juice of one lime and salt and pepper to taste. Set aside.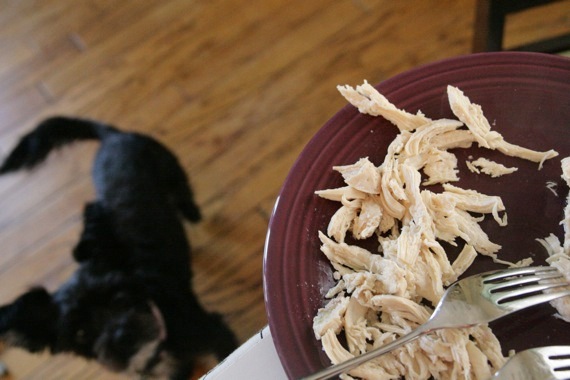 But before you season your chicken, be sure to give your sweet doggy a little tidbit. 😉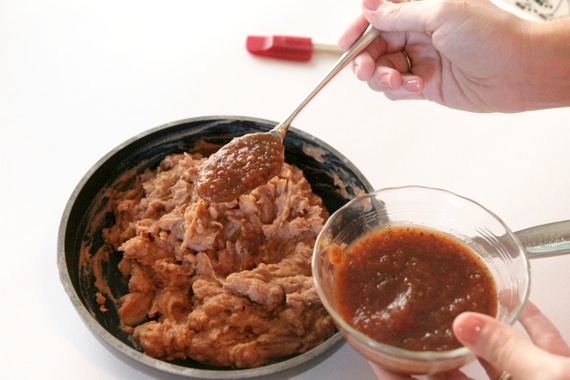 Put your refried beans in a small skillet, stir in 1 (rounded) teaspoon of salsa and a splash of the juice from your jarred jalapenos (trust me, it's good! Plus, it helps thin it out a little bit so it's easier to spread). Cook the beans over medium-low heat, until heated through. Set aside.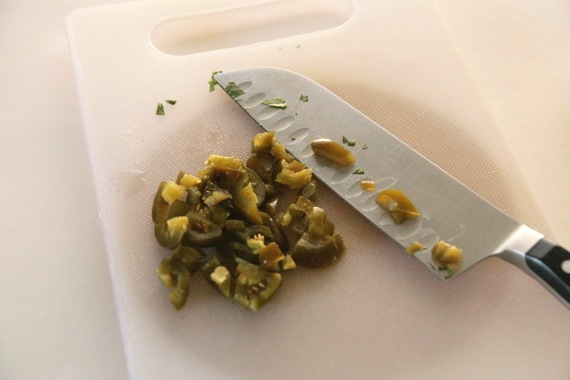 Chop 8-10 slices of the jalapenos.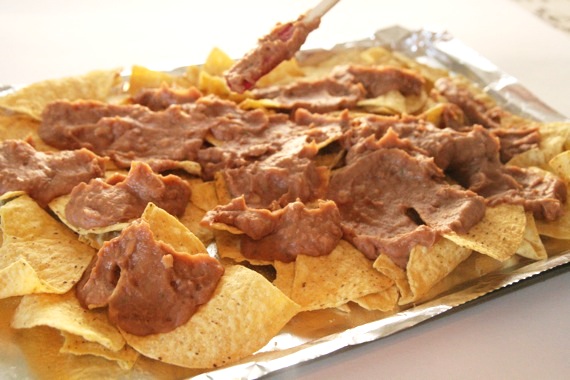 Spread out some tortilla chips on a baking sheet lined with foil and top with the beans. Just spoon some on, then gently spread it out with a small spatula.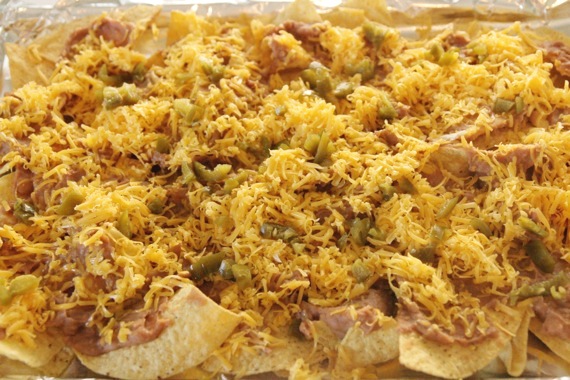 Top with the shredded cheese and the chopped jalapenos.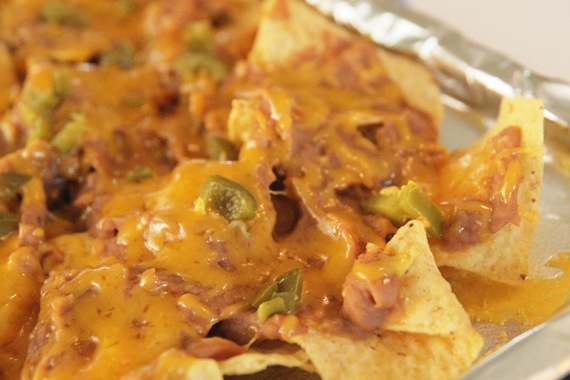 Bake it in a preheated 350 degree oven for about 5 minutes, until it looks all gooey and delicious, like this.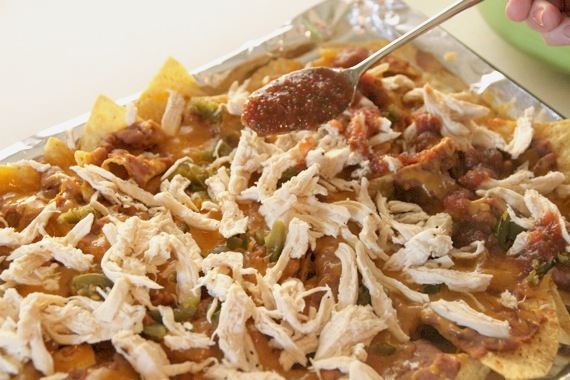 Top with the chicken then spoon on some of your salsa.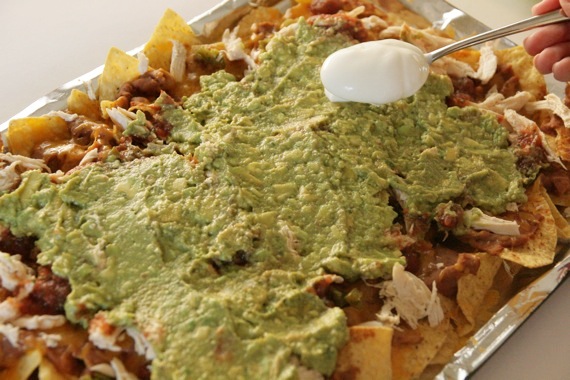 Spread the guacamole over the top, then dollop with sour cream.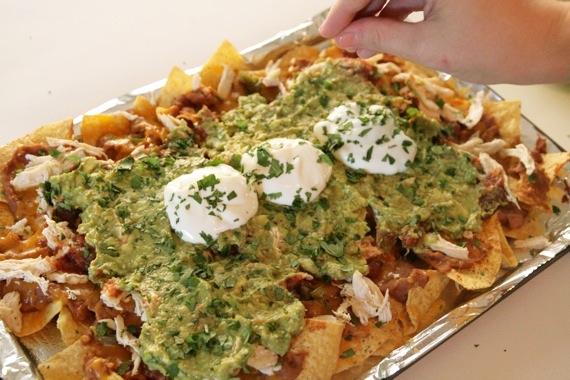 Sprinkle with the chopped cilantro.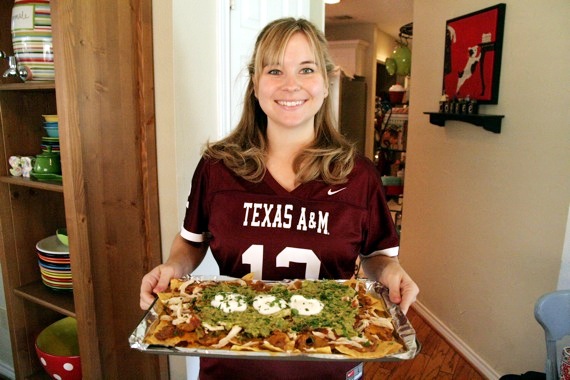 And….ENJOY!!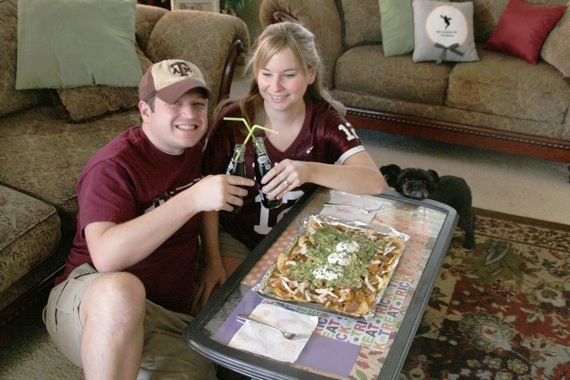 Game Day nachos are best enjoyed with cold Dublin Dr. Pepper…Mexican Coke would be excellent as well. 😉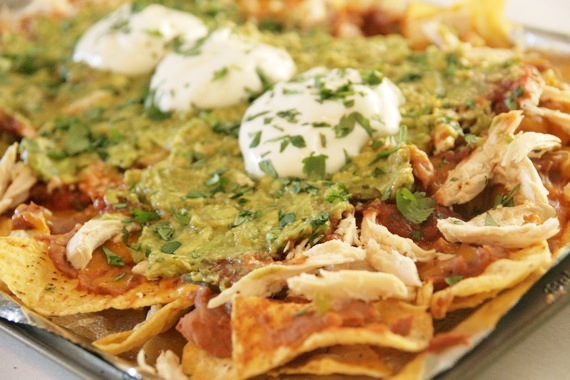 These nachos are seriously GOOD (and they serve a whole boat-load of people!). They're packed with so many different layers of flavor- the chicken is so moist and the hint of tequila really adds a lot! This is seriously, the perfect game day food! But those aren't the star of today's meal….these Bananas Foster Nachos are BY FAR, some of the BEST dessert food I have ever had. Seriously. An explosion of awesome in your mouth. So rich…so gooey…so amazing! I can't wait to show them to you! Here we go- hold onto your hats…this is gonna be good.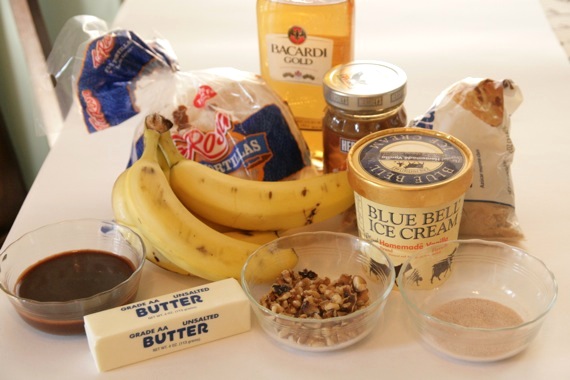 You'll need: flour tortillas, rum, caramel sauce (by all means, make homemade if you want to- I chose not to today), brown sugar, bananas, vanilla ice cream, chopped toasted walnuts, cinnamon/sugar, butter and hot fudge (I use this recipe).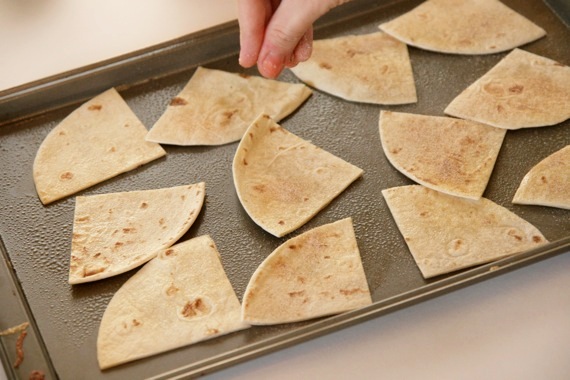 Start by cutting 3 tortillas into quarters. Arrange on a greased baking sheet and spray with butter spray. Sprinkle with cinnamon/sugar. Bake in a 350 degree oven for about 10-12 minutes, until crisp. Set aside.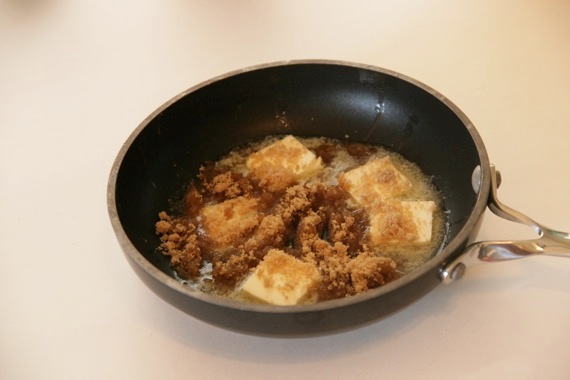 In a small saucepan, melt half a stick (4 tablespoons) butter, 2 tablespoons brown sugar and 1 teaspoon cinnamon.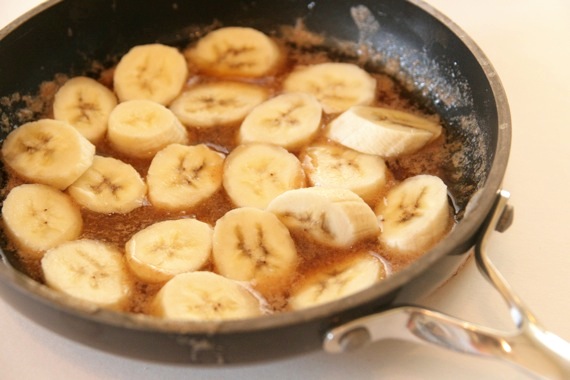 Place three sliced bananas in the pan, gently stir, then add in 2 teaspoons rum. Cook over medium-high heat for about 3 minutes. You still want the bananas to have some texture, so be sure not to overcook them.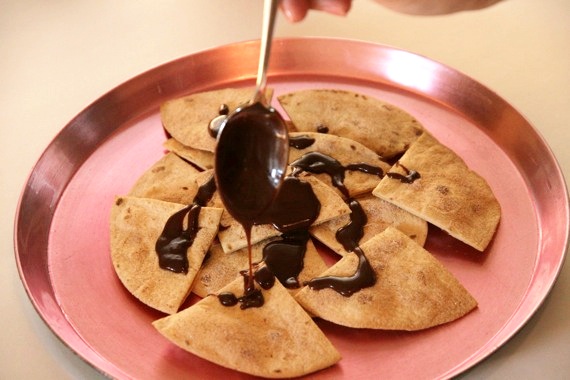 Arrange the tortilla wedges on a platter and drizzle with hot fudge (not too much- this dish can get RICH quick!).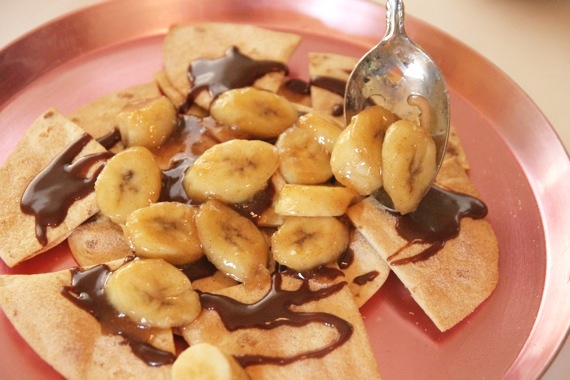 Top with the bananas. Wow. This is looking good already!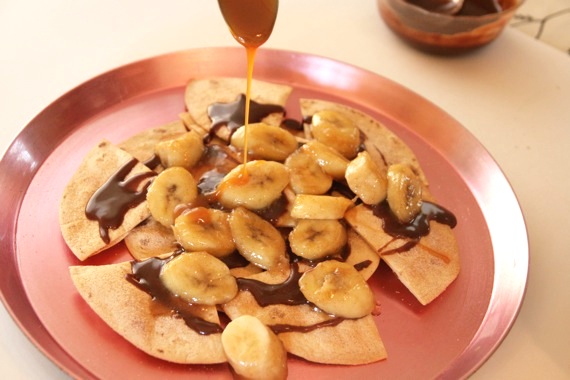 Drizzle with the caramel sauce. Try not to lick the spoon.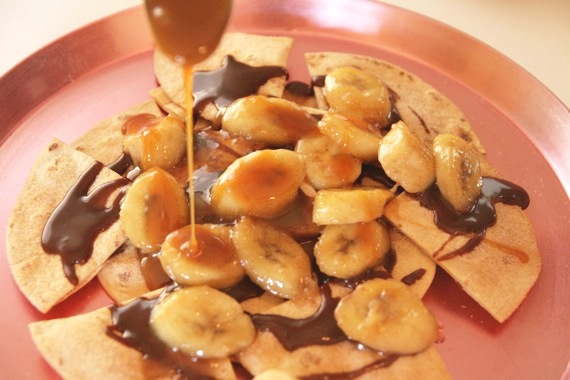 Seriously. Don't lick that spoon.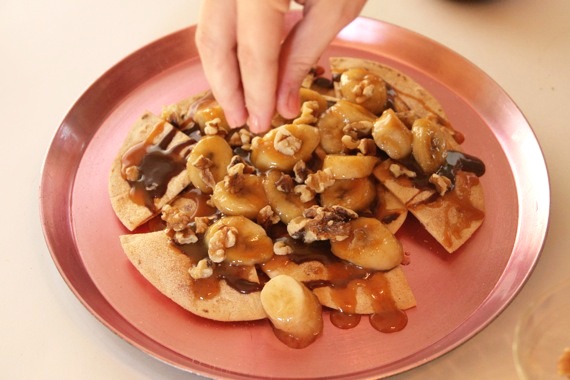 Sprinkle with the toasted walnuts.
And finally, top with a couple of hearty scoops of vanilla ice cream. Holy cow.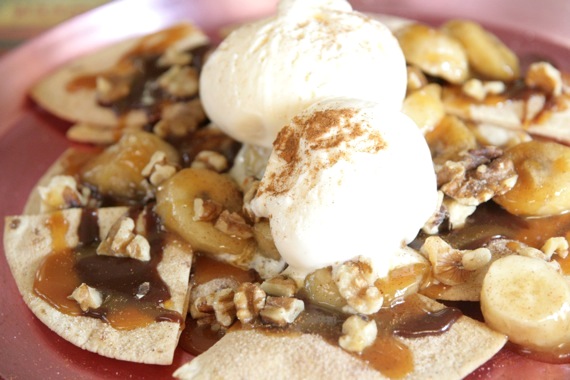 Go ahead and sprinkle with a teensy tiny bit of cinnamon.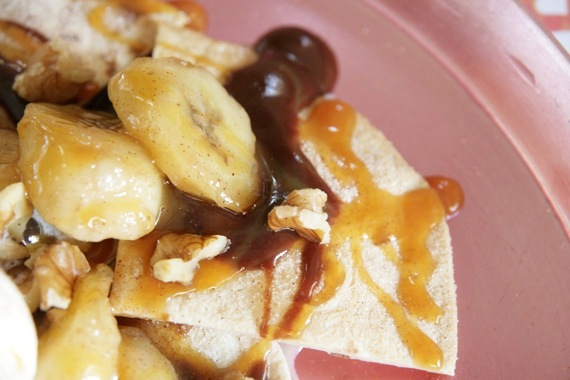 OMIGOSH, OMIGOSH, OMIGOSH….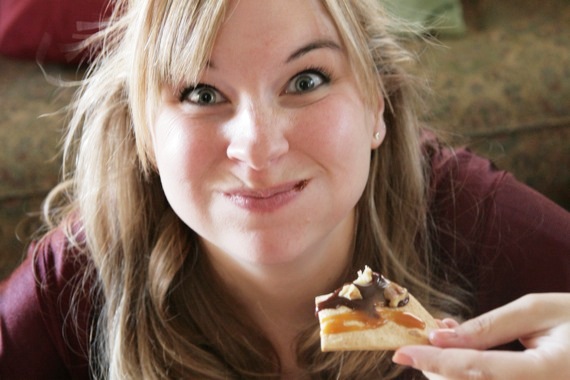 Take a bite…and find yourself on a short trip to "Delicious-Gooey-Yum-Yum-Land".  A truly magical place….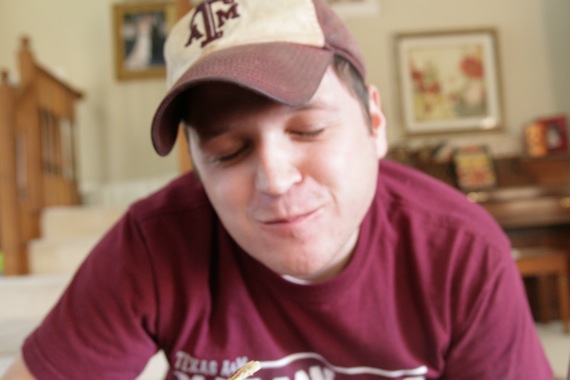 Oh yeah…he's there too…welcome, honey. Welcome.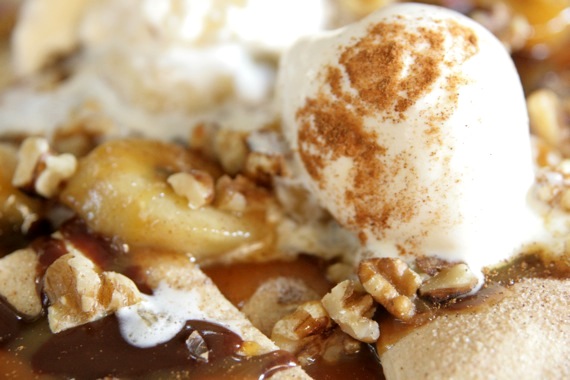 You're welcome.