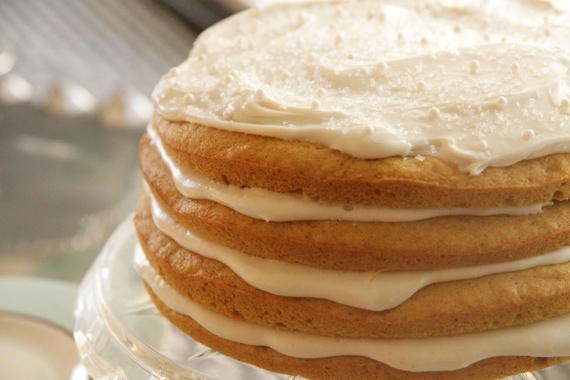 Ahh, Vermont Spice Cake…how I love thee! This cake is so reminiscent of Autumn to me- one bite and I get all warm and cozy and immediately, it feels like Fall. I've had this recipe forever (well, since getting married) and I remember making it the first month of my marriage- it was pretty much the first 'real' dessert I baked for Joel. I was so proud of myself. I had never made a cream cheese frosting from scratch before, and I was hooked right away! There's just something about the combination of pumpkin, warm Fall spices and thick, maple cream cheese frosting that just sings to me. I absolutely love this dessert. Very simple and quick to make, and always a winner with guests (or husbands!).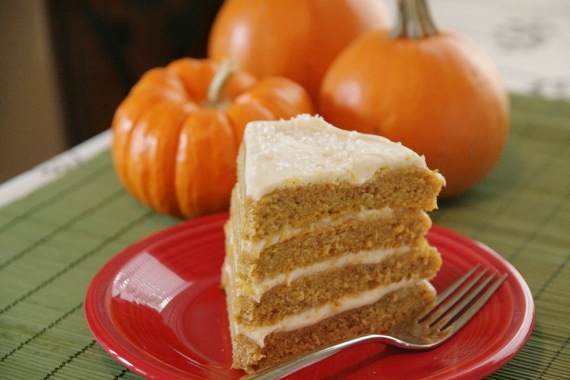 This was the cake I served at my dinner party a couple of weeks ago and it was the absolute perfect end to our meal. We each enjoyed a (big) slice with a cup of cinnamon-orange coffee. It was a huge success- not too sweet, the perfect amount of spice, and a touch of luxuriousness from the cream cheese frosting. The ultimate Autumn dessert!
Vermont Spice Cake with Maple Cream Cheese Frosting
-from my Nestle Classic Recipes cookbook
For the Cake:
3 cups all-purpose flour
3 1/2 teaspoons baking powder
2 teaspoons pumpkin pie spice (I used a mixture of 1 1/2 tsp. cinnamon, 1 tsp. cloves and 3/4 tsp. nutmeg)
1 teaspoon baking soda
1/2 teaspoon salt
1 1/2 cups sugar
3/4 cup (1 1/2 sticks) butter, softened
3 large eggs
1 1/2 cup canned pumpkin
1/2 cup evaporated milk
1/4 cup water
1 1/2 teaspoons vanilla extract
Preheat oven to 325 degrees. Grease 2 9-inch round cake pans. Combine flour, baking powder, spices, baking soda and salt in a small bowl. Beat sugar and butter in a large mixer bowl fitted with a paddle attachment until creamy. Add eggs one at a time; beat for 2 minutes. Beat in pumpkin, evaporated milk, water and vanilla extract. Gradually add the flour mixture. Spread evenly into prepared cake pans. Bake for 35-40 minutes until a toothpick inserted comes out clean. Cool in the pans on wire racks for 15 minutes; remove to wire racks to cool completely.
For the Maple Cream Cheese Frosting:
11 ounces cream cheese, softened
1/3 cup butter, softened
3 1/2 cups powdered sugar
2-3 teaspoons maple extract
squeeze of lemon juice
Beat cream cheese and butter until smooth. Gradually add in the powdered sugar and beat until fluffy. Add in the maple extract and lemon juice. Mix well. Refrigerate until needed.
To assemble:
Cut each layer in half horizontally with a long, serrated knife. Frost between layers and on top of cake, leaving sides unfrosted. Garnish as desired.