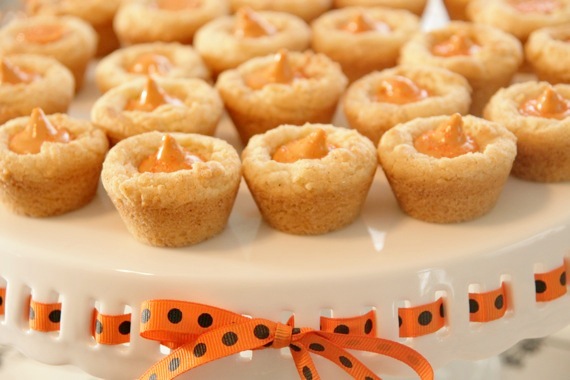 I've never been a big fan of those 'peanut butter blossoms'- you know, the peanut butter cookie with a Hershey kiss stuck in the middle? For whatever reason, I just never liked them. Oddly enough, however, those same cookies were the inspiration for these little guys. Nothing fancy, just a plain sugar cookie sprinkled with cinnamon/sugar and topped with a Hershey pumpkin spice kiss. But OH how yummy! I took these to work and (of course) they were gobbled up! Such a cute little Fall/Halloween treat that takes no time to make!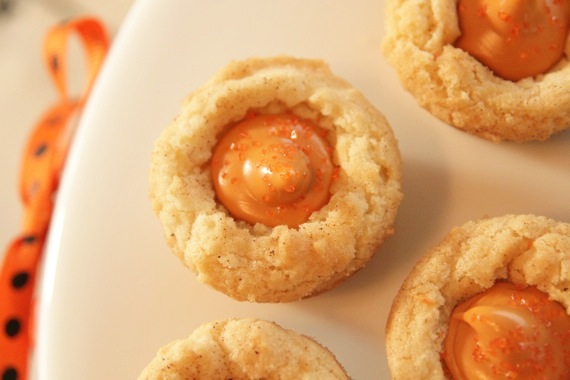 Pumpkin Spice Blossoms
-inspired by this recipe from Betty Crocker
1 batch of your favorite sugar cookie dough, or mix (this recipe would be great!)
24 Hershey Pumpkin Spice Kisses, unwrapped
1 teaspoon cinnamon/sugar mixture, for sprinkling
Preheat oven to 375 degrees. Make dough as directed and scoop into 2 mini muffin pans (that gave me 24 cookies). Sprinkle with the cinnamon/sugar mixture and bake for 10-12 minutes, until cookies are golden brown. Let cool for about 3 minutes, then gently press a pumpkin spice kiss into each cookie. **I chose to sprinkle mine with a little orange decorating sugar- totally optional!