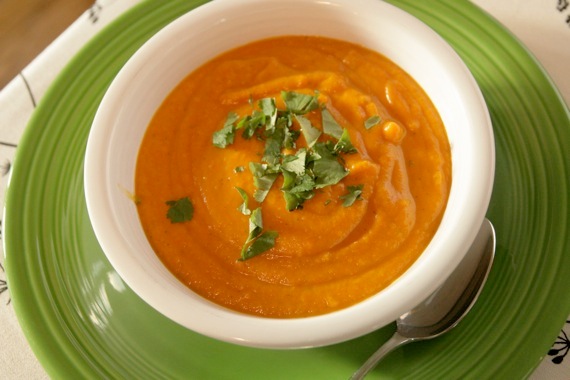 I'm always so thankful for people in my life who encourage me to try new things and broaden my horizons! My co-worker and friend, Jana brought some homemade carrot soup to work with her a couple of weeks ago, and as she started telling me the ingredients, my interest was immediately peaked- carrots, potato, tomato, cilantro and….peanut butter?!! Peanut butter?? With carrots and potatoes?? But as she heated it in the microwave I realized this was something I HAD to try! It smelled amazing! As luck would have it, since Jana is such a sweet lady, she brought me a bowl the next day!! It was delicious! The peanut butter and cilantro added an almost Thai flavor to the warm spices and sweet carrots. I had to make this soup!
I didn't even wait a week before trying it myself- only this time, I used butternut squash, carrots and sweet potato. Honestly, it tasted almost exactly the same as Jana's- YUM! Do me a favor and try this soup SOON! It's completely delicious and makes a great, easy weeknight meal!
Peanut Buttery Carrot and Butternut Squash Soup
-adapted from my friend Jana's recipe
1/2 of a butternut squash, peeled, seeded and chopped (save the other half for another dish)
1 small sweet potato, peeled and chopped
1 1/2 pounds carrots (about 8 medium-sized carrots), peeled and chopped
1 onion, chopped
1 clove garlic, minced
1 teaspoon fresh ginger, minced
2 tablespoons olive oil
6 cups chicken broth (if you want to make this soup vegetarian, feel free to use vegetable stock instead!)
1 teaspoon tomato paste
salt and pepper to taste
1/2 teaspoon ground cumin
1 pinch cayenne pepper
1/4 teaspoon curry powder
1/3 cup creamy peanut butter
1/3 cup chopped cilantro, plus more for garnish, if desired
In a large stock pot, sauté the onion, garlic and ginger in the olive oil over medium heat for about 10 minutes, or until soft. Add in the carrots, butternut squash, sweet potato and chicken broth and bring to a boil. Reduce heat and bring to a low boil and cook for 20-30 minutes, until all the vegetables are soft. Add in the tomato paste, salt, pepper, cumin, cayenne pepper, curry powder, and cilantro. Using a hand blender (or regular blender, a little at a time), puree the vegetables until smooth (you may want to add a little more chicken broth or water if the soup is too thick). Stir in the peanut butter and check for seasoning. Serve with additional cilantro if desired.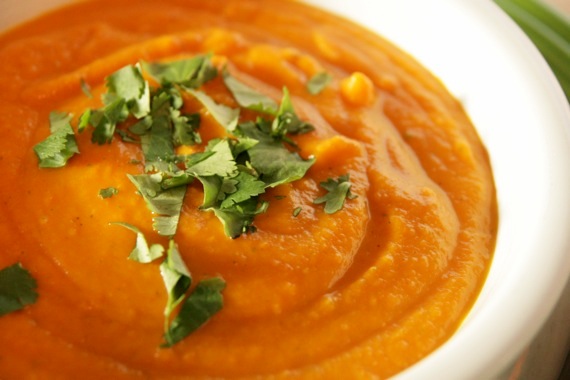 **Don't forget to enter my Dorie Greenspan giveaway!! You have until midnight on Halloween! Go! Go! Go! 😉