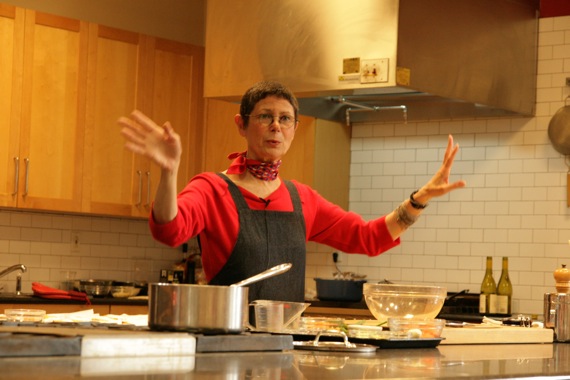 The one and only Dorie Greenspan (my idol!) came to Dallas this past weekend to do a cooking demo and you KNOW I wasn't about to miss out! After three years of worshiping her, I FINALLY got to meet her in real life and she was every bit as sweet and as wonderful as I thought she would be! I confess, I may have "geeked out" on her a couple of times….the first time she walked past us while we were in line, I waved at her so frantically you would have thought she was Santa Claus at the Christmas parade and I was a dorky 8 year old kid. But in a way, it was pretty much like getting to meet Santa as a kid- the most exciting day of your year. And it truly, truly was. She immediately walked over to Jessica and me and when we told her who we were, she got a big smile on her face and gave us both giant bear-hugs. Pure and utter joy.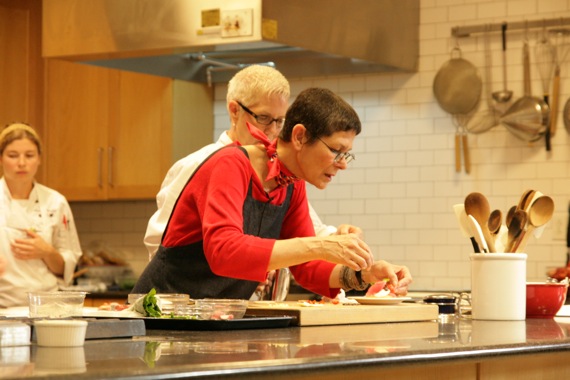 The food was amazing! She made for us (all from her new book Around My French Table):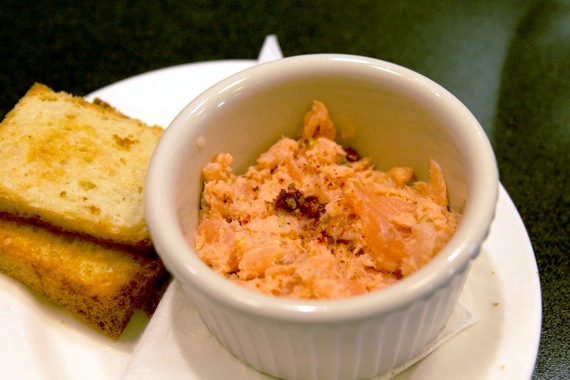 Salmon Rillettes– a delicious spread made with fresh and smoked salmon, spring onions and lemon juice. SO delicious!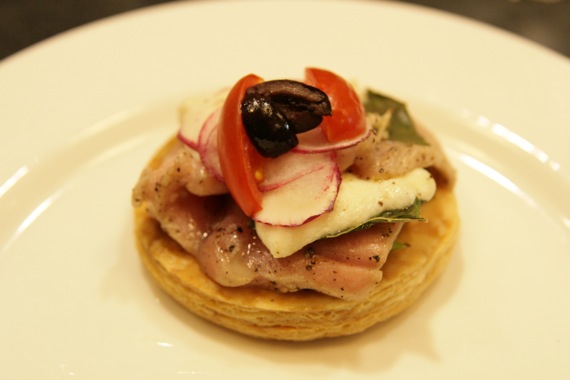 Fresh Tuna, Mozzarella and Basil Pizza – so simple and light! And the puff pastry added just the right amount of richness!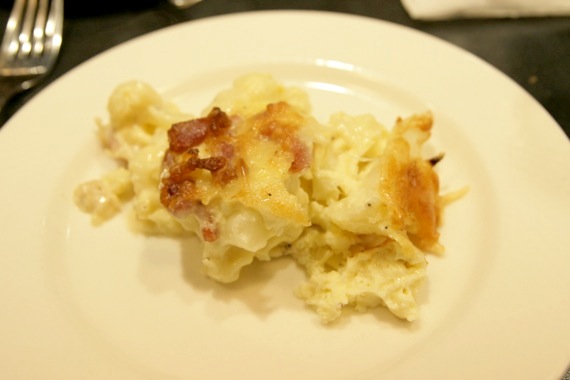 Cauliflower-Bacon Gratin– OMG, so goooood!! Creamy, rich and flavorful! This dish is definitely making it to my Thanksgiving table this year!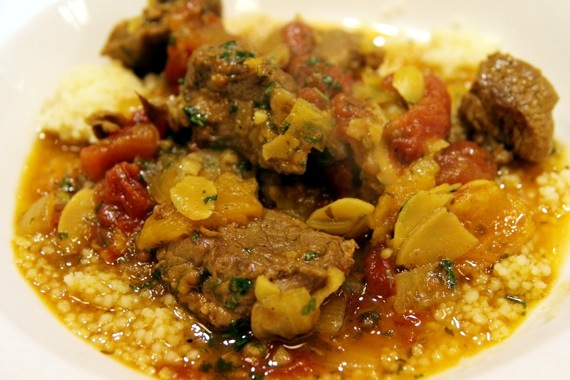 Lamb and Dried Apricot Tagine– I think this one was my favorite. The lamb was so tender you didn't need a knife and the spices were perfect! I loved it!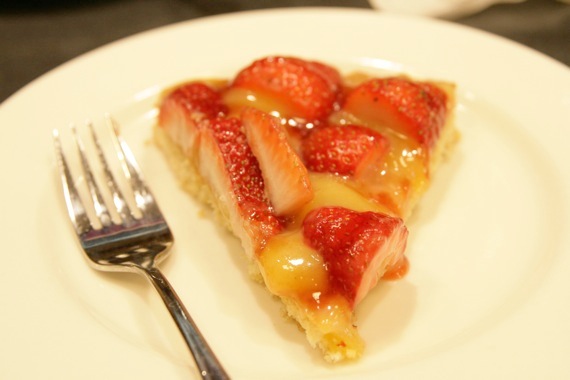 And lastly, a Sablé Breton Galette with Berries – lemon curd, strawberries and Dorie's perfect tart crust. What's not to love?!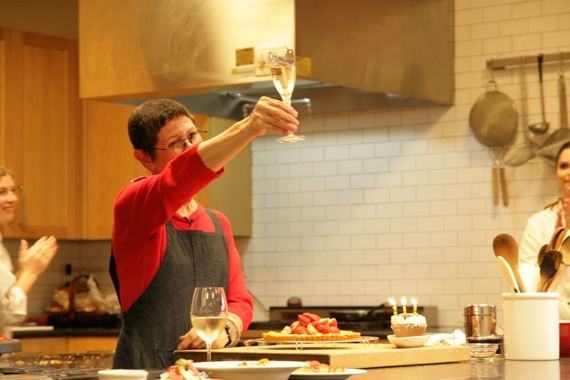 Cheers, Dorie! And happy birthday to you!!!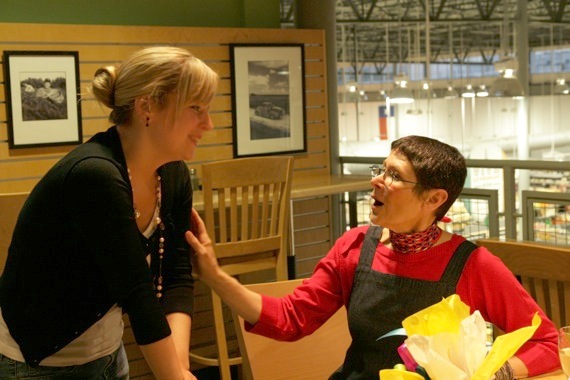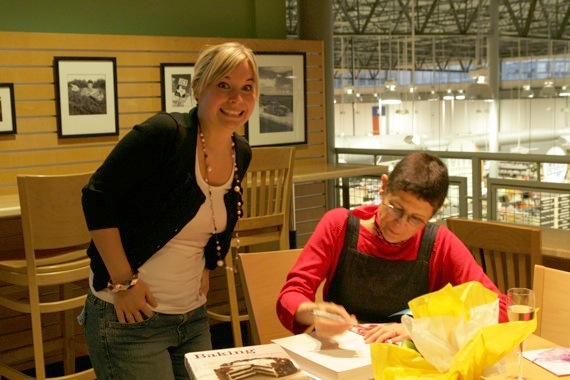 See?? Geeking out. It happened numerous times.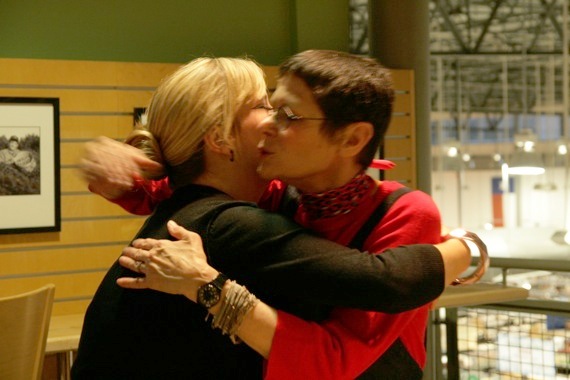 OMG…Dorie hugged me!! 🙂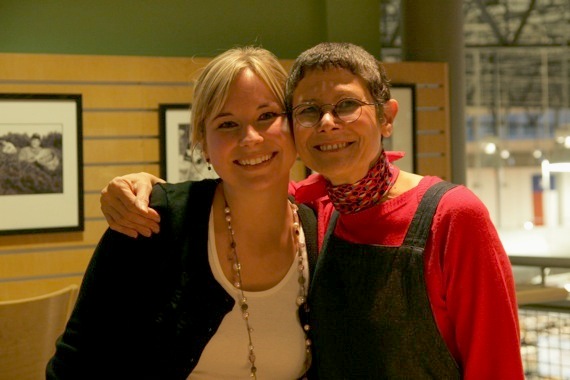 LOVE her!!!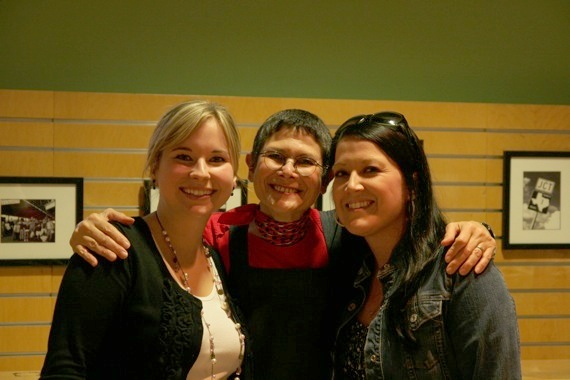 Me, Dorie and Jessica- SO fun!
So obviously, my afternoon spent with Dorie absolutely DID NOT disappoint. I got to meet my idol, taste some fantastic food and lastly, I got an extra copy of Around My French Table to give away….to YOU!! Wheeeeeee!!!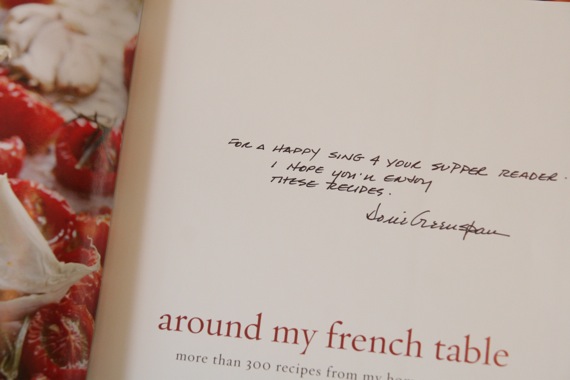 Looky here!! That's for YOU!! 🙂
So all you have to do to enter for a chance to win the fabulous Ms. Greenspan's newest (and totally awesome!) book is:
Leave me a comment in the comments section below answering this question: "If you could meet Dorie today, what would you ask her?"
And for extra entry opportunities, feel free to do the following:
#1. 'Like' me on Facebook
#2. Follow me on Twitter (Sing4YourSupper)
#3. Tweet this post
You can do just one or all four if you want to- it's up to you! Just leave a comment for each one (and if you already 'like' or follow me, leave a comment telling me so!). You have until Halloween (that's Sunday) at midnight (Central Time) to enter. I'll pick ONE very lucky winner randomly on Monday, November 1st!
Good luck!! 🙂