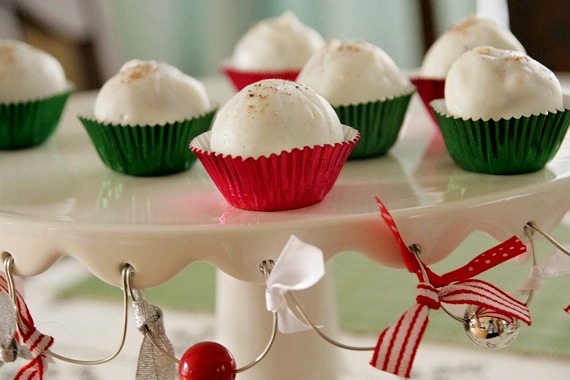 Cake/cookie truffles (or 'cake balls', as they're more commonly referred to– I'm not a big fan of serving 'cake balls') make some of the best party food. I'm very fond of serving finger foods at parties- it makes mingling so much easier.  And goodies like this are always SO popular! I've made cake/cookie truffles many times– just using different ingredients, like different flavors of homemade cookies, different cakes, and now spicy gingerbread. This time around, I started with my great-grandmother's recipe for gingerbread and mixed in some cream cheese- SO good! I always prefer using the almond bark coating (instead of white chocolate), just because it drys so quickly and creates a great crunchy outer shell. A quick sprinkling of nutmeg and you've got a beautiful, totally delicious two-bite treat! Perfect for holiday parties!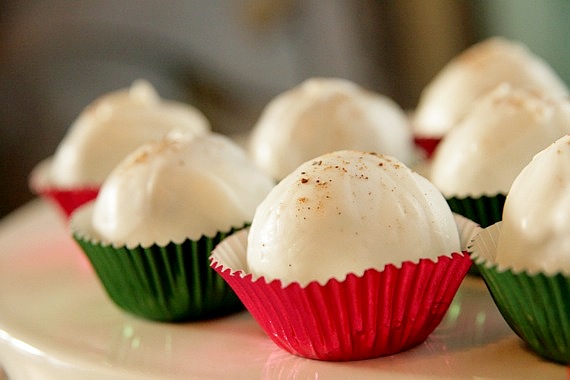 Gingerbread Truffles
-gingerbread recipe from my great-grandmother
For the Gingerbread:
1/2 cup sugar
1/2 cup butter, softened
1/2 cup molasses
1 egg
1 teaspoon ginger
1 teaspoon cinnamon
1 teaspoon baking soda
1/2 teaspoon salt
1 1/2 cup flour
1/2 cup boiling water
Mix together the butter and sugar, then add the egg and molassess, mixing well. In a separate bowl, combine the flour, spices, soda and salt, then add to wet mixture. Stir to combine, then add the boiling water and mix. Pour batter into a greased 9×13 pan and bake at 350 degrees for 25-35 minutes or until springy. Let cool completely.
You will also need:
1 package almond bark or white candy coating
1 8-oz. block cream cheese, at room temperature
nutmeg, for garnish
When cake is completely cooled, crumble into the bowl of a stand mixer (you could also use a hand mixer for this; even your hands!) and add in the cream cheese. Mix until the cake and cream cheese is totally combined. Roll out into walnut-sized balls and place on a sheet pan lined with wax paper. Chill for 1 hour.
Melt the almond bark in the microwave in 1 minute increments, stirring in between, until it is completely smooth. Dip the balls in one at a time (I use a toothpick for this) and coat with the almond bark. Set on a sheet of wax paper and sprinkle with nutmeg. Allow to harden completely. At this point you can serve immediately or freeze for later use.