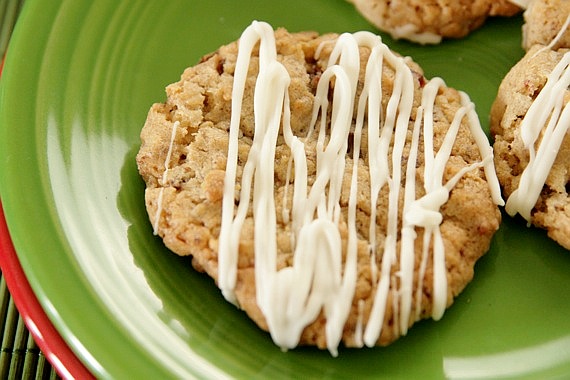 Some of you may remember me winning a cookie contest last year with my Toasted Oatmeal Cookies with Golden Raisins, Pecans and Coconut. It was pretty cool- got my picture in the paper (a boat-load of times!) and they now sell my cookies at a local bakery. Well, this year they asked me to come back as a judge- neat, huh? I got to judge cookies alongside some of DFW's most prestigious bakers and bakery owners! Very cool! We tasted 7 different yummy cookies, and I came away with some great recipes to share with you! My favorite being these Oatmeal Cranberry Delights. These were the runner up (although they had my vote for 1st place!) and everyone really liked them. They're slightly chewy, spicy, a little chocolaty and the cranberries and white chocolate add a whole other level of flavor! A perfect holiday cookie- they're so pretty (and extremely easy to make!). I highly recommend these for your next Christmas party or cookie exchange!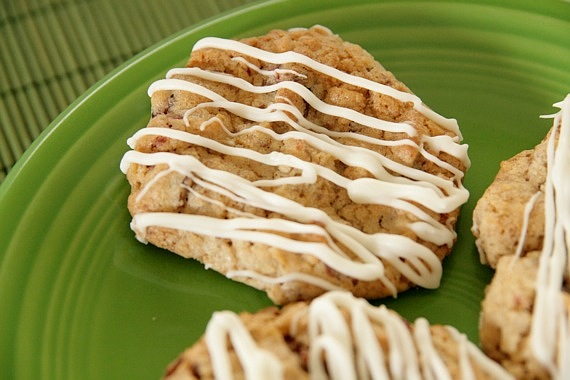 Oatmeal Cranberry Delights
-adapted from Debbie Nicks, Joshua, TX (runner up of the Ft. Worth Star Telegram Very Merry Cookie Challenge 2010)
1 cup (2 sticks) butter (softened)
1 cup sugar
1 cup brown sugar
2 eggs
1 teaspoon vanilla
2 cups self rising flour
1/2 teaspoon salt
1/2 teaspoon cinnamon
2 cups oatmeal
1 cup finely chopped pecans
1 bag of dried cranberries (6 oz.)
1 cup grated milk chocolate bar
1/2 cup melted white almond bark
Preheat oven to 375 degrees. Cream butter, sugars, eggs and vanilla. Mix flour, oatmeal, salt and cinnamon together and add to butter mixture. Stir until ingredients are well mixed. Fold in pecans, crasins, and grated chocolate bar. Drop by rounded teaspoonfuls onto greased cookie sheet. Bake for approximately 10-12 minutes, until golden brown. Move to cooling rack until completely cooled. Drizzle melted almond bark over cookies. Serve after almond bark has dried. Makes approximately 40 cookies.