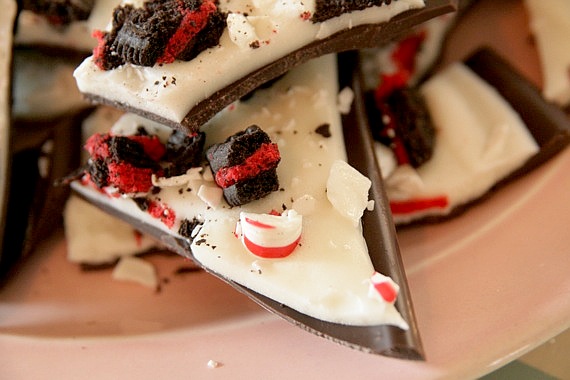 Joel and I sort of have an unhealthy addiction to Oreos. We love them. We even had an Oreo bar with a milk fountain at our wedding. 🙂 Yep, addicted. Which is why I use Oreos in baking/candy making every chance I get. Especially the holiday Oreos- the orange filled ones at Halloween, the pastel ones at Easter/Spring and the red ones at Christmas- which I what I used for this Oreo peppermint bark (at Joel's suggestion). We had a big party with all of our friends last weekend and I made a big tray of this stuff- it was a huge hit! People can't resist peppermint bark around the holidays anyway…add crushed up Oreos to the mix and they REALLY can't resist it! I'll definitely be making this year after year!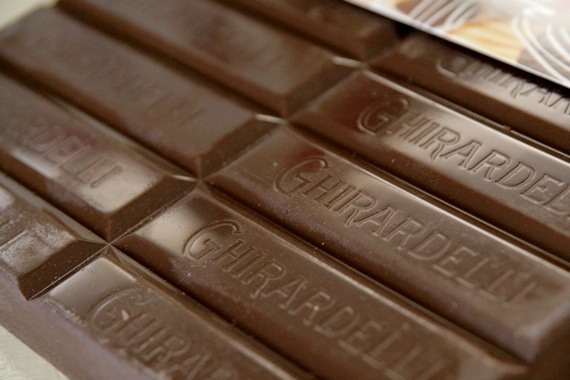 I was giddy at finding this giant block of Ghiradelli candy making chocolate at Sam's! I see lots more candy making in my future!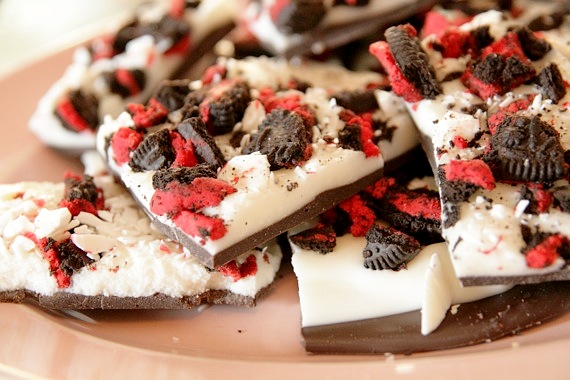 Oreo Peppermint Bark
-Sing For Your Supper original
1 pound dark chocolate bark
1 pound white chocolate almond bark
1/2 teaspoon peppermint extract
10 Oreos, roughly chopped (I used the festive holiday ones!)
1/2 cup crushed peppermints
Melt the dark chocolate bark in the microwave in 30 second intervals, stirring in between. Pour out onto a large sheet of wax paper and smooth it out into one even (thin) layer with a spatula (an offset spatula works perfectly for this). Let sit at room temperature for 15-20 minutes, until hardened. Next, melt the white chocolate bark.
When the chocolate is hardened, stir the peppermint extract into the melted white chocolate bark. Pour over the dark chocolate layer and spread out evenly to the edges with a spatula.
Sprinkle the Oreos and crushed peppermints in an even layer over the top. Let sit until completely dried and hardened, about 20 or 30 minutes.
Break into pieces and serve. Enjoy!
**As always, feel free to use regular dark and white chocolate instead of bark (candy coating). I just prefer to use it because it dries so quickly and doesn't need to be refrigerated.