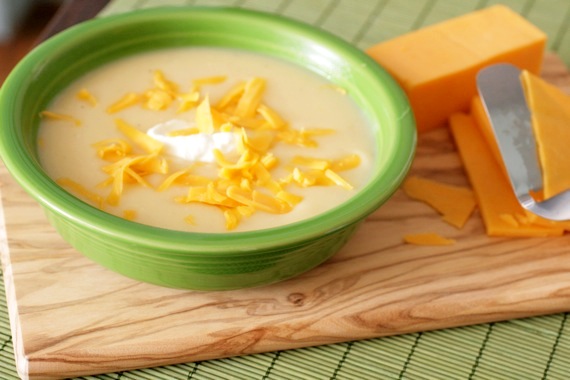 If you're anything like me, some nights you'll end up staring blankly into the fridge with no idea what you're going to make for supper…and it's almost suppertime. Lucky for  you (and me!), if you've got a bag of potatoes and some onion , you've got the beginnings of a mighty tasty potato soup! This recipe isn't new to the blog- it's made an appearance before, BUT I just got a handy dandy macro lens for Christmas and couldn't resist re-shooting this soup. Plus, I've made a couple of small changes to the recipe that make it just about perfect in my eyes (and Joel's!). I made this not too long after Christmas and after a week of being horribly sick, and it tasted SO good! So rich and creamy with a slight tang from the sour cream- I really, really love it!
Creamy Potato Soup
-adapted from my mom's recipe
5-8 medium size russet potatoes, peeled and cut into chunks
1 onion, chopped
1 chicken bouillon cube
salt and pepper to taste
1/3 cup sour cream
1/2 cup shredded cheddar cheese
Put the potatoes, onion and bouillon cube in a large stock pot and add enough water to cover. Cook uncovered, over medium-high heat until it begins to boil, then reduce the heat the low and cook for 30 minutes, or until the potatoes are very soft. Stir in salt and pepper. Using a regular blender or a hand blender (that's what I used), puree the mixture until smooth and free of lumps (*if you use a regular blender, be sure to puree only a little at a time; you don't want to overfill your blender). Stir in the sour cream and shredded cheese. Check for seasoning and add more salt and pepper as needed.
Garnish with additional sour cream and cheese, bacon bits or green onion if desired.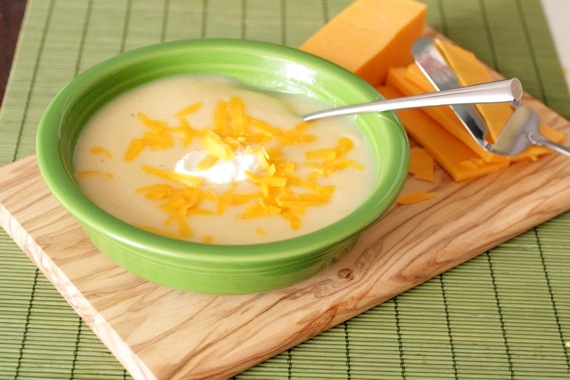 Playing with my new lens….what do you think? Maybe I should learn to focus better… 😉