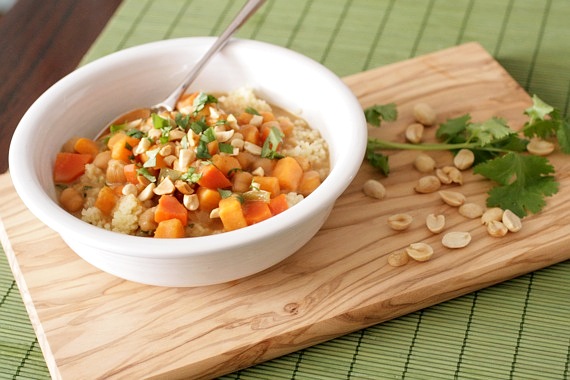 Now, I know I have a lot of readers who enjoy simple, down-to-earth recipes (as do I!), and I realize this recipe sounds a tad "different" from the types of things I normally post. But folks, you're just going to have to trust me on this one- it's absolutely delicious. I got this recipe from a sweet reader who enjoyed my Peanut Buttery Carrot Soup post and recommended I try her mother's recipe for West African Peanut Stew. That was over a month ago, and honestly, since then, this recipe has been at the top of my "must try" list. I finally got around to making it this weekend and WOW! What a delicious recipe! Hubby and I both licked our bowls clean, then went back for seconds! The combination of flavors and ingredients here is just perfect- the spices really complement the hearty chunks of sweet potato and smooth peanut butter, and the cilantro and chopped peanuts are the perfect toppings. If you're looking for something new and exciting for dinner this week…seriously, give this a try, it's a surprising delight!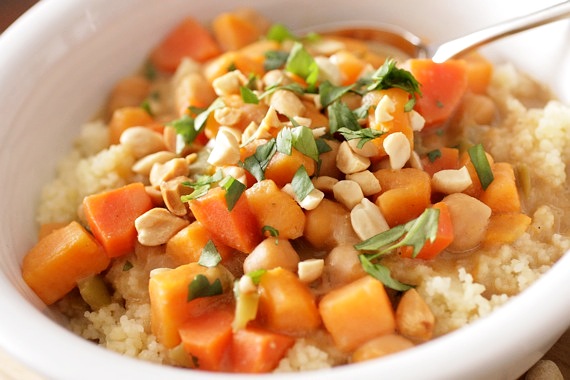 West African Peanut Stew
-adapted from Steph's mother's recipe
2 tablespoons olive oil
1 medium onion, chopped
2 garlic cloves, minced
1 teaspoon fresh ginger, grated
2 teaspoons ground cumin
1/4 teaspoon red pepper flakes
1 medium sweet potato, diced
1 large carrot, diced
1 green pepper, diced
salt and pepper to taste
4 cups chicken broth (or 4 cups water, with a chicken bouillon cube)
1/2 cup smooth, natural peanut butter
1/2 cup crushed peanuts, for garnish
1/2 cup chopped cilantro, for garnish
cooked couscous, for serving
Heat oil in a large pot over medium heat. Add onion, garlic, ginger and red pepper flakes and cook for 5 minutes. Stir in the ground cumin and cook for 1 minute more. Add sweet potatoes, carrot, and green pepper. Cook, stirring occasionally, for another 5 minutes.
Add chicken broth and salt and pepper. Bring stew to a boil, then cover and reduce to a simmer. Cook 20-30 minutes, or until the sweet potato and carrot is soft. Stir in the peanut butter and cook for 5 minutes.
Serve the stew hot, on to top couscous or rice, with the peanuts and cilantro sprinkled on top.
Serves 4

**I also added chickpeas to mine for a little more texture- it was a delicious addition!
Now, onto the real reason for this post. My blogging friend, Branny of Branny Boils Over is hosting a wonderful charity next month, Charity Souper Bowl. She's asked us to each blog a soup recipe and send it in to her; she's hosting the event on February 6th (the Super Bowl) and for every entry she receives, she'll donate $1 to the ASPCA. This money will go toward giving homeless animals medical care, food, shelter, etc. Wonderful cause, no? She asked each of us who participate to dedicate our post to a special animal in our lives. Well, I think we all know who I'll be dedicating mine to… our sweet Izzy! She's not just the official mascot of Sing For Your Supper, she's mine and Joel's beloved pet and we love her so much. Since Izzy came to us from an animal rescue, helping causes like this one is very near and dear to our hearts. I'm happy to participate! Good luck, Branny, and thank you!!