You know, there's really only one man who can lift my spirits after a long hard day, make me laugh even when I don't feel like laughing, make me sing for no reason, reduce me to tears in the most beautiful way and help look at life in a whole new light. You may think I'm talking about my husband….but I'm not (but you're great, honey, really!). That man is none other than my beloved W.A. Mozart. Of course I kid- obviously my sweet hubby does all those things for me as well, but this post isn't about him…it's about Mozart! And Bake It Pretty, but I haven't gotten there yet! 😉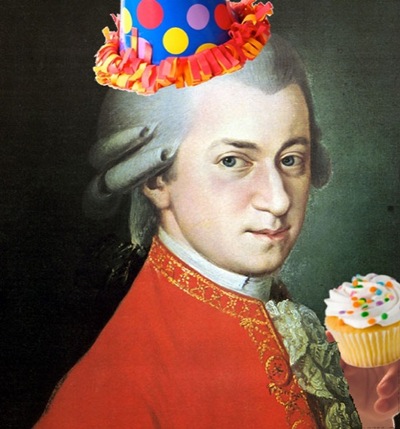 Today is Mozart's 255th birthday, and I just couldn't let the day go by without honoring him on my blog (and facebook page…and twitter…). It's tradition for me to throw him a big 'ol birthday party every year, music nerd-style. I go all out – cake, music and the movie Amadeus. Sure, it's pretty much a fabricated "enhancement" of Mozart's life and career, but hey, it's worth it for the soundtrack alone, plus I like to hear Tom Hulce's silly "Mozart laugh".
I always like to host a little giveaway on Mozart's birthday – last year, if you'll remember, it was the box of Mozart chocolates from Austria. However, Izzy managed to snag the box off the table, unwrap the plastic, tear into the box and eat all but 4. *sigh* So this year,  I decided to do a non-perishable (and non-doggie-attracting) giveaway; a $20 gift card to Bake It Pretty! I seriously love this site- I spend hours just perusing the cupcake liners and sprinkles! They have everything you could ever want to fit your baking needs! My personal favorites are these "pretty in plaid" cupcake liners I just bought, pink pearlized chunky crystal sugar, and lilac shimmery sugar pearls…to name a FEW. I could seriously spend a fortune there! And one lucky winner will have 20 bucks to go wild with! Woo!
To enter:
leave me a comment answering this question: If you could ask Mozart any question, what would it be? Smart aleck-y comments will be discarded and if you've never heard of Mozart…..well, you should probably just leave. 😉
You have until midnight tomorrow (Friday) to enter. I'll choose one winner randomly and announce it on Saturday. Good luck, and HAPPY BIRTHDAY, MOZART!!!
**Props to my hubby for his sweet Photoshop skills! 😉