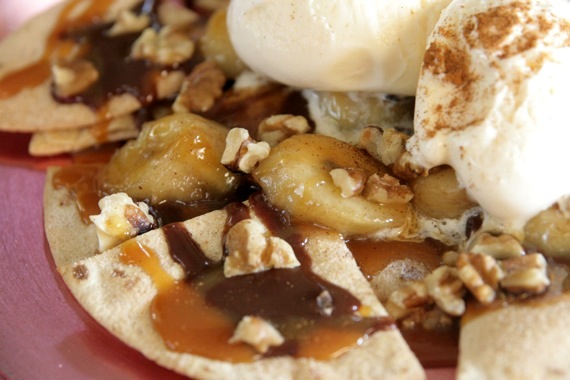 Three words: Bananas. Foster. Nachos. You remember these?? I posted them back in October for my Project Food Blog challenge #4. Oh yeah. These are some serious nachos, y'all! Something I think you really, really need to make your Super Bowl party a success. Chocolate, caramel, buttery, brown sugary, rummy bananas…. Super Bowl food for the GODS, I tell you!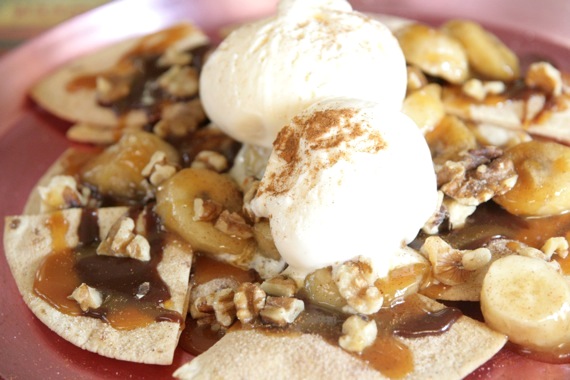 Still looking for that perfect Super Bowl dessert? Look no further, because these nachos are lightening quick to make, easy to eat (albeit a little messy), and seriously, seriously delicious! And most importantly, they're man-friendly. These are guaranteed to please ANY man on the holiest of man days- Super Bowl Sunday. Make these and watch all your Super Bowl dessert dreams come true.
Bananas Foster Nachos
3 flour tortillas, cut into quarters
cinnamon-sugar
4 tablespoons butter, cut into chunks
2 tablespoons brown sugar
1 teaspoon cinnamon
2 teaspoons dark rum
3 bananas, sliced
vanilla ice cream
prepared hot fudge sauce, for drizzling
prepared caramel sauce, for drizzling
chopped walnuts; optional
Preheat oven to 350. Arrange tortilla pieces in a single layer on a baking sheet and spray with butter spray. Sprinkle with cinnamon-sugar (as much as you want). Bake for about 10-12 minutes, until crisp.
Meanwhile, in a small saucepan over medium heat, heat butter, brown sugar, and cinnamon until butter is melted. Add the sliced bananas, gently stir for a minute or so, then add the rum. Continue to cook for about 3 or 4 minutes.
Place the cinnamon-sugar chips on a large platter and spoon over the banana mixture. Top with vanilla ice cream and drizzle with hot fudge and caramel sauce and sprinkle chopped walnuts, if desired. Serves 3-4.
Recipe source: Sing For Your Supper original