Joel, our friends, my parents, grandparents, co-workers, neighbors, brother-in-law, opera friends….these are all the people who claim these to be their all-time favorite chocolate chip cookies. That's not something to be taken lightly. These cookies have been hastily featured on here before, but they most certainly did NOT receive the full respect and attention they deserve. Now, I know I've definitely made my fair share of chocolate chip cookies through the years, but just bare with me while I share just one more (for now!)- the BFCCCCs (Big, Fat, Chewy Chocolate Chip Cookies). I've honestly never made these for anyone who didn't immediately say they were the best they've ever had, and I've made these a floppity-gillion times. That's big. For me, it's sort of a toss-up (and also depends largely on what mood I'm in) between these and the famous NY Times chocolate chip cookies. But for whatever reason, when I make chocolate chip cookies, it's usually these. 🙂 I realize the cookies in my pictures are not exactly "big and fat"- I prefer my cookies on the smaller side, so I always use a standard cookie scoop instead of the heaping 1/4 cup-size scoop it calls for.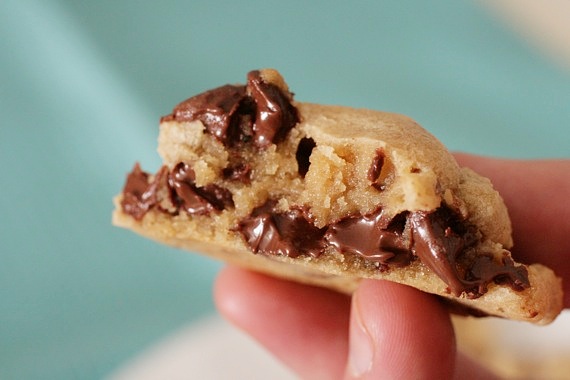 You see that? That's heaven in cookie form, right there! There's not much better in life than a warm chocolate chip cookie and a glass of milk. Honestly. Now, I can't actually tell you where this original recipe started. It bares a striking resemblance to the Cook's Illustrated recipe, but with a few minor changes; yet the original recipe I first found was from allrecipes.com. Who knows. What I do know is, it's delicious.
Big, Fat, Chewy Chocolate Chip Cookies
2 cups, plus 2 tablespoons all-purpose flour
1/2 teaspoon baking soda
1/2 teaspoon salt
1 cup unsalted butter, melted and slightly cooled
1 cup packed brown sugar
1/2 cup white sugar
1 tablespoon vanilla extract
1 egg
1 egg yolk
1 1/2 cups semisweet chocolate chips
Preheat the oven to 325 degrees. Line cookie sheets with parchment paper. Sift together the flour, baking soda and salt; set aside.
In a medium bowl, cream together the melted butter, brown sugar and white sugar until well blended. Beat in the vanilla, egg, and egg yolk until light and creamy. Mix in the sifted ingredients until just blended. Stir in the chocolate chips by hand using a wooden spoon.
Drop cookie dough 1/4 cup at a time onto the prepared cookie sheets. Cookies should be about 3 inches apart.
Bake for 15 to 17 minutes in the preheated oven, or until the edges are lightly golden (If you're making smaller cookies like mine, bake them for about 10 minutes). Cool on baking sheets for a few minutes before transferring to wire racks to cool completely. Makes approximately 12-14 very large cookies or 36 smaller cookies.
Recipe source: allrecipes.com