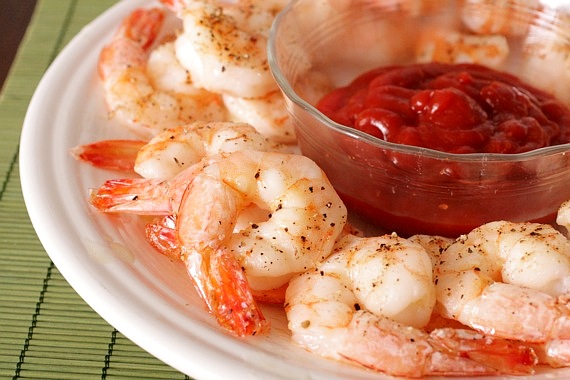 This is one of those great, impressive easy-as-can-be appetizers that make you look like a rock star, but really took you less than 10 minutes to throw together. Aren't those the greatest?! I like to keep a stack of fast, easy appetizer recipes handy for when I need to put something together in a hurry, and roasted shrimp cocktail is definitely one of them! It's great for get-togethers, or if you're hosting a nice dinner party, or maybe if you just want a nice, no-fuss appetizer for a quiet dinner at home for you and your sweetie. Everybody loves shrimp cocktail, but I feel like it gets a little tiresome after awhile; this is the perfect way to make it interesting again! Give it a try at your next party- your guests will love it!
Roasted Shrimp Cocktail
2 pounds (12 to 15-count) shrimp
1 tablespoon good olive oil
1/2 teaspoon kosher salt
1/2 teaspoon freshly ground black pepper
Preheat the oven to 400 degrees F.
Peel and devein the shrimp, leaving the tails on. Place them on a sheet pan with the olive oil, salt, and pepper and spread them in 1 layer. Roast for 8 to 10 minutes, just until pink and firm and cooked through. Set aside to cool.
Serve with cocktail sauce for dipping.
Recipe source: Ina Garten