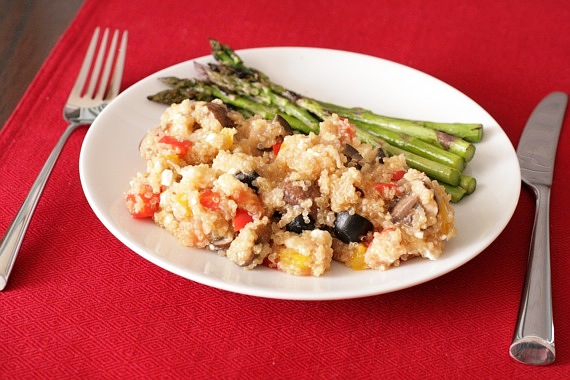 [keen-wah]. You thought it was [kwin-oah], didn't you? 😉 That's ok, so did I at first. Up until a couple of years ago, I had never even heard of this stuff, much less know how to cook it. But it's become pretty popular lately- mostly due to how healthy it is (very high in protein and fiber), but also because it's extremely versatile. You can bake with it, eat it for breakfast (like oatmeal), make a salad with it, cook it like rice and throw in lots of yummy vegetables…the list goes on! It's a grain-like seed with a texture similar to a cross between rice and couscous (you can read all about quinoa here). Joel and I both loved the texture and thought it was all-around a delicious new food to add to our menu rotation! I cooked it with red and yellow bell peppers, red onions, garlic, baby portobella mushrooms, black olives and feta cheese for a flavorful Mediterranean twist – absolutely delicious! I'm so happy I finally decided to try quinoa and can't wait to experiment with all kinds of flavors and dishes!
Mediterranean-Style Quinoa
1 cup uncooked quinoa, rinsed thoroughly
2 cups chicken broth
1 tablespoon olive oil
1/2 yellow bell pepper, chopped
1/2 red bell pepper, chopped
1/2 red onion, chopped
1 clove garlic, minced
squeeze of fresh lemon juice
6-8 baby portobella mushrooms, cut into quarters
1 small can chopped black olives
1/3 cup feta cheese
salt and pepper
Bring the quinoa and chicken broth to a boil over medium-high heat. Reduce the heat to low and simmer, stirring occasionally, for 20-25 minutes, until all the liquid has absorbed.
In the meantime, heat the olive oil in a large skillet over medium-high heat and sauté the onions, peppers and garlic until beginning to soften, about 7 minutes. Add in the mushrooms and cook for another 5 minutes. Turn off heat.
Add the cooked quinoa to the pan with the vegetables. Season with salt and pepper and stir in the lemon juice, black olives and feta cheese. Serve immediately. Serves 2-4.
Recipe source: Sing For Your Supper original