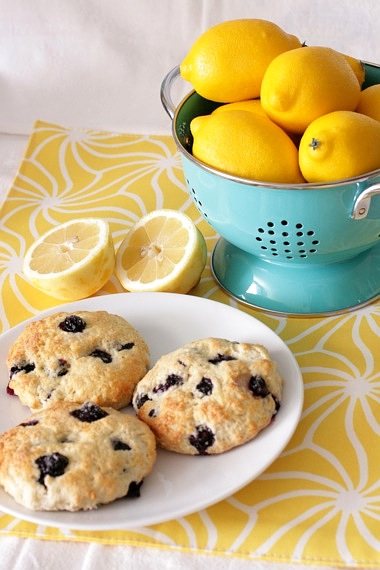 For some strange reason, scones are something I don't often make. I really have no idea why, because I actually love them. They're like biscuits, but slightly sweeter and you can add any number of ingredients to customize them however you like! Chocolate chip, strawberry, cinnamon, ginger….anything you want! I chose to make lemon blueberry because I had a couple of big, beautiful lemons and a pint of fresh blueberries just begging to be used. These were SO good! Light and tender, just bursting with fresh lemony flavor and full of big, juicy blueberries – a perfectly delicious breakfast (I really need to make scones more often!)! Believe it or not, I'm not one of those people who love overly sweet, heavy foods at breakfast – sure, I'll indulge in a stack of chocolate chip pancakes every now and then, but really, I prefer more subtle breakfast foods, like scones. They're ever-so-slightly sweet and light enough that I can have more than one. 😉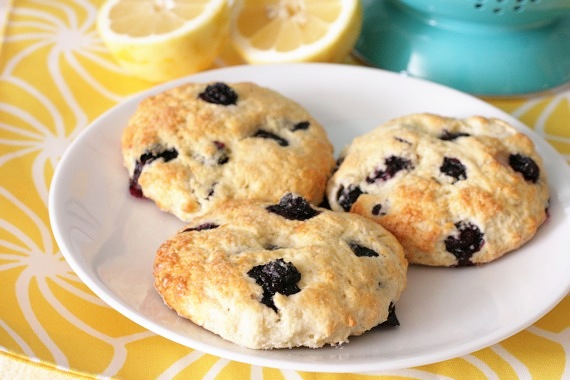 I started with Dorie Greenspan's Basic Cream Scones recipe, made a few changes and came up with a truly delicious scone that I know I'll be making many, many times. If you're looking for an easy, delicious breakfast recipe, this one won't fail! Oh! And an exciting tidbit about this post- I'm guest posting over at Beantown Baker today as part of her Friday Favs series! How fun! Head over to Jen's site and check out my post and be sure to check out all her other fabulous recipes as well! Thanks again, Jen, for inviting me to participate!
Lemon-Blueberry Buttermilk Scones
1 egg
2/3 cup buttermilk
2 cups all-purpose flour
3 tablespoons sugar
1 tablespoon baking powder
1/4 teaspoon salt
zest of 2 large lemons
1/2 pint fresh blueberries
5 tablespoons cold butter, cut into small cubes
1 egg beaten with 1 teaspoon water, for egg wash.
sugar, for sprinkling
Preheat oven to 400 degrees.
Beat egg, buttermilk and lemon zest together and set aside.
In large mixing bowl, whisk the flour, sugar, baking powder and salt together. Add the butter and using a pastry cutter, fork or your fingers (Dorie prefers using her fingers best) cut it into the flour until you have a pebbly mixture the size of peas.
Pour the egg and cream into the flour/butter mixture and stir to combine with a rubber spatula. Very gently, fold the blueberries into the dough, being careful not to crush them. When the mixture is totally incorporated, turn the dough out onto a floured surface and pat out until it is 1 inch thick. Using a biscuit cutter, cut out circles and place on a baking sheet lined with parchment paper; alternatively you can just cut the dough into squares or triangles.
Brush the tops of the scones with the egg wash, then sprinkle generously with sugar. Bake for 18-20 minutes, until the are nicely browned. Serve immediately. Store any leftovers in an airtight container. Makes approximately 10 scones.
Recipe source: heavily adapted from Dorie Greenspan's Baking From My Home to Yours