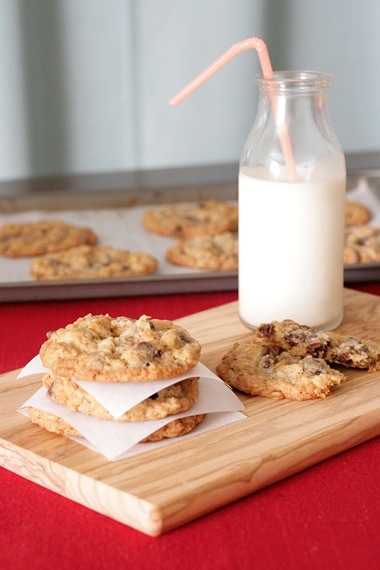 Let me ask you a question: what, exactly, makes a recipe "cowboy" or "Texan"?? This has always mystified me. I mean, who first decided to make oatmeal chocolate chip cookies and call them "cowboy cookies"? I just don't get it. Oh well. That doesn't keep these cookies from being totally scrumptious (I was going to just call them "oatmeal cookies with chocolate chips, coconut and walnuts", but I'm pretty sure cookies with all these ingredients are usually called cowboy cookies). I've been craving a crisp, slightly chewy oatmeal cookie with lots of texture- now, I firmly believe I have the BEST recipe for good 'ol chewy, comforting oatmeal cookies, so I decided to doctor them up a little to achieve my desired texture. Want to know what I added? Crushed up graham crackers. It added just the right amount of texture, as well as a slightly toasty flavor. I absolutely loved it.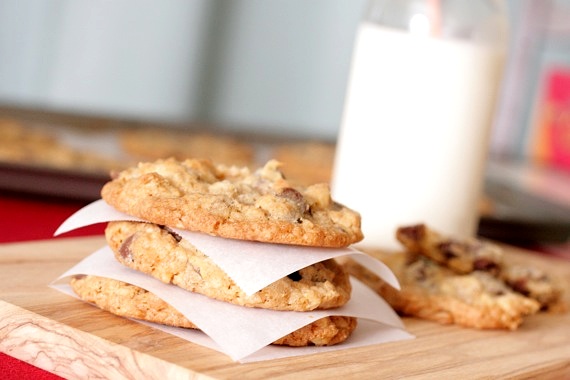 These turned out chewy, but nice and crisp around the edges. As always, I toasted my coconut, oats and nuts for an added crunchiness. What a cookie. Luckily, I had tons of leftover dough, so I can't wait to take these to all my opera friends (yes, it's that time again- opera season has begun so all my singer friends are eager to resume their roles as my cookie-tasting guinea pigs). I have a feeling these will go over quite well! You've got to give these a try if you're looking for a good oatmeal cookie- they're something special!
Cowboy Cookies
1 1/2 cups old-fashioned oats
3/4 cup all-purpose flour
1/2 cup graham cracker crumbs
1/2 teaspoon baking soda
1/2 teaspoon baking powder
1/2 teaspoon salt
3/4 cup (1 1/2 sticks) unsalted butter, softenend
1 cup sugar
1 large egg
1 tablespoon half and half
1 teaspoon vanilla extract
1 cup coarsely chopped walnuts
1 cup shredded sweetened coconut
1 1/2 cups semi-sweet chocolate chips
Preheat oven to 350 degrees. Combine oats, coconut and walnuts and spread on a baking sheet. Toast in the oven for 5-7 minutes, or until the coconut becomes fragrant, stirring occasionally. Let cool. Combine flour, graham cracker crumbs, baking soda, baking powder and salt in a bowl. Set aside. In a separate bowl, cream butter and sugar until light and fluffy. Add egg, half and half and vanilla and blend until smooth. Gradually stir in the flour mixture, then toasted oat mixture and chocolate chips. Drop dough onto a cookie sheet lined with parchment paper in rounded spoonfuls (or you can use a cookie scoop) about 2 inches apart. Bake for about 12-14 minutes until edges of cookies are golden brown. Transfer to a wire rack for cooling.
Recipe Source: Sing For Your Supper original, heavily adapted from my recipe for Toasted Oatmeal Cookies with Golden Raisins, Coconut and Pecans