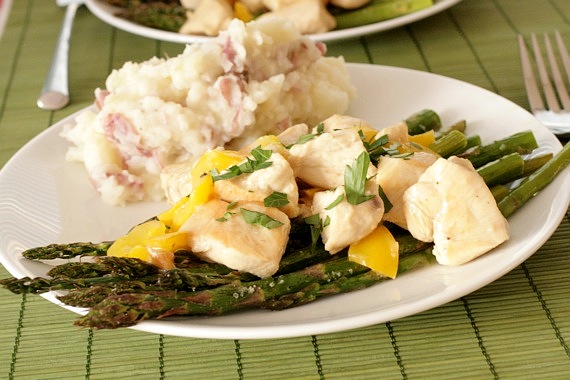 I can't tell you how nice it is to be able to cook and bake with lemon again…I love this time of year! I got the inspiration for this dish from a recipe I saw on another blog- ok, tell me this isn't the cutest name ever- Feed Me, Seymour. Get it?? Like, from Little Shop of Horrors?? I LOVE that musical, so naturally I was drawn to Kim's blog from the start. I loved Kim's idea of serving small pieces of chicken over asparagus and immediately set out to recreate it for dinner that night. This was an absolutely scrumptious dish! Joel and I loved it and cleaned our plates! I really hope you'll try this- it's so quick and easy (literally, if you've got 30 minutes, you've got lemon chicken and asparagus for dinner!) and really, really delicious.
Lemon Chicken and Asparagus
1 tablespoon olive oil, plus more for the asparagus
2 boneless, skinless chicken breasts, cut into 1-inch pieces
1 yellow bell pepper, chopped or cut into thin strips
1 cup chicken broth
1 tablespoon flour
salt and pepper
juice of one large lemon
1 bunch fresh asparagus
Preheat the oven to 350 degrees and line a baking sheet with foil. Lay the asparagus in a single layer on the baking sheet and drizzle with olive oil. Season with salt and pepper and bake for about 6-8 minutes, until just barely tender. Set aside.
Meanwhile, heat the 1 tablespoon olive oil in a large skillet over medium-high heat. Add the chicken pieces and cook, turning the pieces so they cook evenly, for about 5 minutes. Add in the peppers. Cook for an additional 5 minutes then using a slotted spoon, transfer the chicken and peppers to a plate and set aside.
Reduce heat to medium-low and whisk the flour into the drippings left in the skillet. Slowly whisk in the chicken broth. Add salt, pepper and lemon juice. Whisk constantly until the sauce starts to thicken slightly. Add the chicken and peppers back in and cook for 5-7 minutes.
Spoon the chicken, peppers and sauce over the asparagus and serve. Serves 2.
Recipe source: Sing For Your Supper original, inspired by Feed Me, Seymour