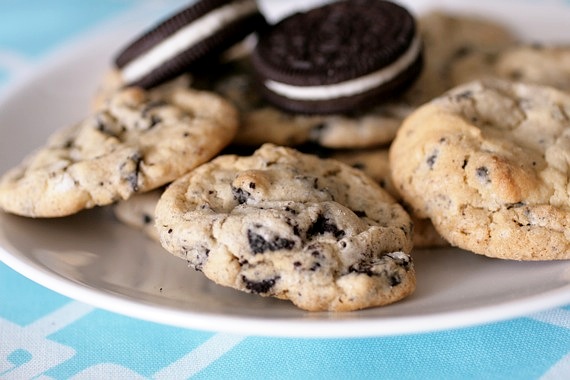 Phew! Thanks for bearing with me, y'all! Now that my site's up and running again (*ahem* 3 days later…), I'll share a delicious treat with you! A delicious Oreo-studded treat! Yeah, I'll admit it. I'm an Oreo-holic. Most times, I'll pick up a package of Oreos with the hopes of using them in some brilliant baked treat, but they never make it to the oven. I can't resist. I'll eat every last one of them before even getting anywhere close to baking with them. It's a sickness.
I've seen these cookies floating around lately and have been meaning to try them for weeks now but….well, you know my situation (see above). Finally, I gathered up enough will power to resist eating them long enough to bake these amazing cookies. OMG, I'm in love! I used my beloved King Arthur Flour drop cookies recipe and simply stirred in a hearty amount of chopped Oreos….you MUST make these. Chewy like a sugar cookie, but filled with crunchy bits of Oreos- these are heavenly. I can't wait to make them again. If I can keep my hands off the Oreos long enough……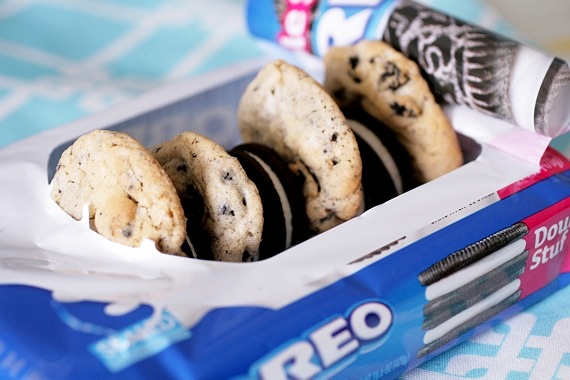 Cookies and Cream Cookies
1/2 cup butter
1/3 cup + 1 tablespoon granulated sugar
1/3 cup brown sugar, packed
1/2 teaspoon salt
1 teaspoon vanilla
1/4 teaspoon baking soda
1/2 teaspoon baking powder
1 large egg
1 1/2 cups flour
2 tablespoons milk
1 1/2 cups Oreos, chopped
Preheat the oven to 350°F. Lightly grease two baking sheets, or line with parchment. Beat together the butter, sugars, salt, vanilla, baking soda, and baking powder until well combined. Add the egg, beating until smooth. Scrape the sides of the bowl, and beat again until smooth.
Add the flour, mixing it in completely.  Stir in the milk, then carefully stir in the Oreos.
Drop the cookies by rounded spoonfuls onto the prepared baking sheets, spacing them about 2 inches apart. A cookie scoop works well here.
Bake the cookies for 11 to 15 minutes, until they're a light golden brown, and a bit darker around the edges.
Remove from the oven, and cool right on the baking sheets.
Recipe source: inspired by Culinary Concoctions by Peabody, drop cookie recipe from King Arthur Flour