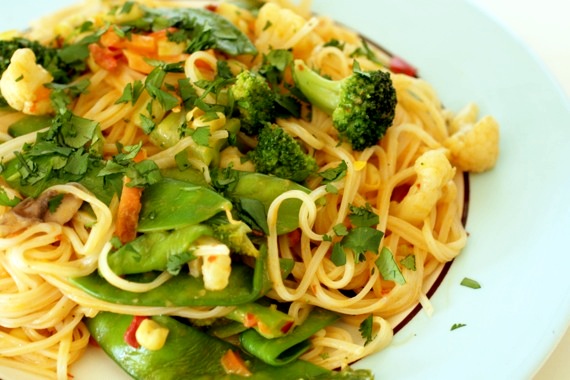 I've been trying to broaden my horizons a bit in the kitchen lately. Ever since I made that delicious fish curry, I've wanted to delve deeper into curries and other ethnic flavors. That's when my opera friend Meredith told me about one of her simple weeknight recipes she makes often that uses Thai red curry paste. I was totally intrigued, not only by the simplicity of the dish, but by how totally yummy it sounded. I've been waiting weeks for a free night to make this! Not only was it easy (and QUICK! It took less than 10 minutes!), it rocked!!! If you've never cooked with Thai red curry paste (or made your own), you're missing out! If you're looking for something different and simple for your weeknight dinner rotation, try this! You'll love it!
Easy Weeknight Thai Stir Fry
1 package frozen stir fry vegetables (I used one with broccoli, cauliflower, carrots, snow peas, water chestnuts and red peppers but you can use anything you want. Fresh veggies would be ideal, obviously, but when you're short on time, this is too easy!)
1 package vermicelli or rice noodles (rice also works great)
1-2 tablespoons Thai red curry paste (depending on how hot you like it)
3/4 cup coconut milk
1/4 cup water
Cook the noodles according to the package. In a large skillet over medium-high heat, cook the frozen vegetables in a little olive oil until thawed and hot. Whisk together the curry paste, coconut milk and water and pour over the vegetables. Add the cooked noodles and toss to coat.
Serves 2-4.
Recipe source: my friend Meredith